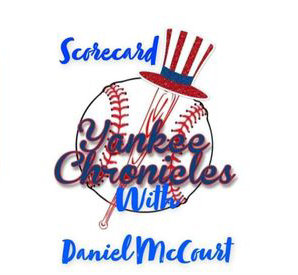 On November 19, 2018, the Mariners traded southpaw starter James Paxton to the Yankees for lefthander Justus Sheffield, a prospect, along with Erik Swanson and Dom Thompson-Williams. Paxton had a good, almost great, 2019 season for the Yankees, 15-6, including winning 10 straight games at the end of the season. He won one game in the subsequent ALCS loss to Houston, but an injury before the shortened 2020 season, and another during it, seem to have ended the free agent's association with the Yankees.
Righthander Stan Bahnsen won the American League Rookie of the Year Award on November 19, 1968, in a down time for the Yankees franchise. The "Bahnsen Burner" posted a 17-12 mark that year with a minuscule 2.05 era. It was particularly gratifying to a fanbase accustomed to a winning ballclub that had finished 10th out of 10 two years previous. It was what New York was hoping for ever since Bahnsen was a late-season callup back in 1966.
Former Yankee All Star outfielder Hank Bauer was named manager of the Baltimore Orioles on November 19, 1963. He did quite well, posting a 407-318 win-loss record over five years and leading his charges to the Championship in 1966. Hank had hit 158 home runs with 654 rbi's playing in the Bronx for 11 years, and he was sent to Kansas City in the trade that brought Roger Maris to New York. Bauer would eventually be replaced in Baltimore by Hall of Fame Manager Earl Weaver.
The Yankees named Bucky Dent manager at AAA Columbus on November 19, 2002. Dent would lead the Clippers to second-, first-, and third-place finishes in the International League West Division the next three years.
Although it was fun to have him around on the Yankee periphery, I was glad to see that Oakland signed free agent "lefthander" (so listed in Transactions, but actually ambidextrous) Pat Venditte to a minor league contract and invited him to spring training on November 19, 2014, because I [rightfully] expected that it would lead to Pat getting a shot in the bigs. Venditte posted a 2-2 mark with the A's in 26 games, a record that has not changed through 35 games for Toronto, Seattle, the Dodgers, the Giants, and the Marlins since. Pat uses a special six-finger glove that he can switch from hand to hand when pitching from the two different sides.
Two of the three Yankee players to have died on November 19 earn the distinction because they played with the 1901-1902 AL Baltimore Orioles team that would be relocated to New York as the Highlanders in 1903. Righty-hitting southpaw Crese Heismann (1951) ended his career by losing all three of the games he pitched (all starts) for the 1902 Orioles. Also a lefty thrower, Frank Foreman (1957) also ended his big-league play in Baltimore, throwing 26 games (24 starts) for the 1901-1902 teams to a 12-8-1 record. Finally, catcher Fred Hofmann (1964) debuted by playing 213 games for the 1919-1925 Yankees. He hit seven home runs and drove in 53 runs on 133-for-594 hitting.
Shortstop Everett Scott, who was born on November 19, 1892, knocked in 173 runs and stroked 13 homers for the 1922-1925 Yankees, after eight years in Boston, and before completing the '25 season with the Senators. He split 1926 playing for both the White Sox and the Reds. When Lou Gehrig played his 1,308th consecutive game in August of 1933, it was Scott's record that he broke, and Everett stands alone in third place in consecutive games played to this day, behind Cal Ripken, Jr., and the Yankees' Iron Horse. Scott led American League shortstops in fielding average for eight straight seasons (1916-23).
The other two Yankees with November 19 as their birthday are less well known. Lefty-hitting outfielder Bill Bailey (1881) appeared in a big league uniform only for the 1911 Highlanders, playing two of his five games in the outfield and one at third base, and managing one hit and one run scored in his nine at bats.
Catcher Joe Glenn's (1908) longer tenure featured a debut in the Bronx, where he smacked one homer and drove in 56 from 1932 through 1938. Glenn finished up his career playing one year each for the Browns and the Red Sox. Joe served as the catcher when Babe Ruth pitched for the last time, in 1933.