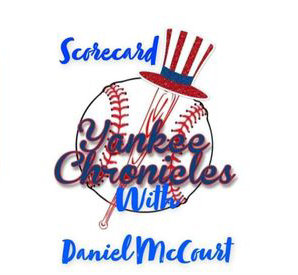 In one of the biggest trades in major league history, the Yankees acquired first baseman Dick Kryhoski, pitchers Bob Turley and Don Larsen, shortstop
Billy
Hunter, and a few others from Baltimore for outfielder Gene Woodling, shortstop Willie Miranda, pitchers Harry Byrd and Jim McDonald and catchers Gus Triandos and Hal Smith and a few minor leaguers on November 18, 1954, a transaction that would prove helpful to both teams.
On November 18. 2015, the Yankees signed free agent catcher Kyle Higashioka to a minor league contract and invited him to spring training. A free agent in the Yankee system since he was drafted in 2008, Higashioka's prospects with the team were dwindling until he displayed a boost in his power numbers in 2016, with 21 homers in a season split between AA Trenton and AAA Scranton. He has appeared in the Bronx in every season since.
On the waiver wire it read like an afterthought, as the announcement of a "player to be named later" would. But when the Yankees selected Scott Brosius from Oakland on November 18, 1997, as the player the Yanks received for already departed Kenny Rogers, they were getting themselves the 1998 World Series Most Valuable Player.
The signing by the Yanks of free agent starter Don Gullett on November 18, 1976, after he had helped sweep them in the World Series for the Big Red Machine just about a month earlier that year was a mixed blessing. Although Gullett would spend much of the time during which he was contractually attached to the Yanks injured, he did manage a 14-4 mark in 1977, and his eight-inning stint in Game One of that year's World Series kept the Yanks in a key game they would win in 12 innings.
The Pinstripers traded catcher Brad Gulden and cash to Seattle for infielder Larry Milbourne and a player to be named later on November 18, 1980. Milbourne would notch 17 hits and hit .327 in three postseason series for the Yanks in 1981, and in May of that season the Mariners sent the Yanks that player "later to be named." His name? Brad Gulden.
It sounded like a flurry of minor moves that would barely affect the parent club, but all but one of the following would contribute to the 99-win 2006 Yankee season: On November 18, 2005, the Yankees purchased the contracts of lefthander Matt Smith and outfielder Kevin Thompson from AAA Columbus, righties Matt DeSalvo and Jeffrey Karstens from AA Trenton, and reliever T.J. Beam from Class A Charleston. And Karstens and DeSalvo went on to start nine games in 2007 between them.
Orioles third baseman Brooks Robinson outpolled Mickey Mantle for the AL Most Valuable Player Award on November 18, 1964, by a vote of 269 to 171. Also on November 18, Roger Clemens beat out Don Mattingly, 339-258, in the 1986 vote, becoming the first starting pitcher to win it since Vida Blue had in 1971.
The brother of Hall of Famer George Brett, lefthanded pitcher Ken Brett (2003) is the only Yankee player to have died on November 18. Brett saved one game with no wins or losses while pitching two games (no starts) for the 1976 Yankees.
The Yankee November 18 birthdays list almost goes into double digits, starting with key 2004-2005 teammates Tom Gordon (1967) and Gary Sheffield (1968). Gordon had a 14-8 mark with six saves in 159 appearances; and Shef hit 70 home runs with 244 rbi's in those years. Lefty Allen Watson (1970) went 4-0 in 38 games for the 1999-2000 Yanks; and Clay Bellinger (1970) had 12 homers and 35 rbi's in 181 games for the 1999-2001 Bombers. Ron Coomer (1966) reached three fences and knocked in 17 rbi's for the 2002 Yanks.
Southpaw Danny McDevitt (1932) recorded a 1-2 mark with one save in eight games for the 1961 Yanks. Earlier in his career McDevitt had shut out the Pirates in the Dodgers' last game at Brooklyn's Ebbets Field in 1957. Jim Marquis (1900) played only two games in the bigs, both with the 1925 Yankees; and catcher Deacon McGuire (1863) drove in 67 runs for the 1904-1907 Yanks, and appeared in more major league seasons (26, from 1884 to 1912) than any catcher in baseball history. Righthander Bruce Billings (1985) pitched in one game for the 2014 Yankees, posting the easy-to-calculate 9.00 era by allowing four earned runs on four hits and a walk in four innings.