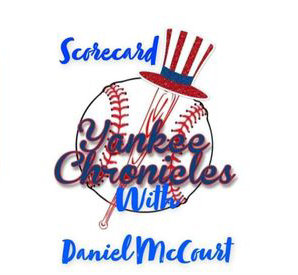 Knowing that Roger Maris had bested Babe Ruth's single-season home run title with 61 in 1961, one might assume that he ran away with the AL MVP that year in the vote on November 15, but his winning total of 202 votes narrowly edged teammate Mickey Mantle's 198, and Baltimore's Jim Gentile followed with a respectable 157.
Yankee third baseman Gil McDougald won the AL Rookie of the Year crown on November 15, 1951. He not only hit 14 homers with 63 rbi's with a .306 batting average over 131 games, he finished in the Top Ten in a slew of offensive categories, including stolen bases, sacrifices, batting average, on-base percentage, and slugging percentage.
The Yankees came to terms with outfielder Hideki Matsui on a four-year contract extension through the 2009 season on November 14, 2005. Following a lost year in 2006 after having broken his wrist in early May, Hideki was AL Player of the Month in July for the 2007 team, but struggled mightily with a bad knee down the stretch. Further trouble with his other knee slowed him in 2008, but "Godzilla" had a huge comeback season in 2009, culminating with his World Series MVP.
Roger Clemens won his seventh Cy Young Award — and first in the NL — for the Astros in 2004, after having been awarded with his sixth AL Cy Young Award as a Yankee on November 15, 2001. Although Clemens finished with a middle of the pack earned run average, he did post a 20-1 mark to start the season, breaking an almost 100-year-old record.
Former Yankee Jim Bouton's controversial (at the time) book Ball Four took the form of a diary, and the first date listed in it is November 15, 1968.
Yankee DH/first baseman Jason Giambi, while still with Oakland, won the 2000 AL MVP Award on this day. 
Once Yankee Manager Buck Showalter failed to come to an agreement on a 1996 contract with owner George Steinbrenner, the Bomber skipper who had just led the Yanks to their first postseason appearance in 14 years signed a seven-year contract to manage the Arizona Diamondbacks on November 15, 1995, even though the franchise would not field a team until 1998.
Two players with solid Yankee cred who lead the list of pinstripers to have passed away on November 15 did so in 2019: lefthanded outfielder Irv Noren, and righthander Jim Coates, whose careers dovetailed in 1956. Noren hit 31 Yankee homers and drove in 198 playing in the Bronx from 1952-1956. And Coates debuted with the Yankees, pitching in 167 games (39 starts) from 1956-1962 to a 37-15 record with 12 saves; in 1960 and '61 he went 13-3, then 11-5. Also passed this day: southpaw Bill Karns (1941), who pitched three games (one start) for the 1901 Baltimore Orioles team that would be shifted to New York as the Highlanders in 1903; and lefthanded first baseman Klondike Smith (1959), who played for the 1912 Highlanders only, but garnered no home runs or rbi's while getting five hits in 27 at bats. 
A sinkerballing lefthanded reliever on three Yankee pennant winners, Joe Ostrowski (1915) is the lone Yankee player born November 15. Joe posted a 9-7 record with 10 saves for the Bombers, finishing up his baseball career with the 1950-1952 Yankees after two seasons with the St. Louis Browns. Once retired, he was free to return to his "day job," as the bespectacled professor who taught high school mathematics.