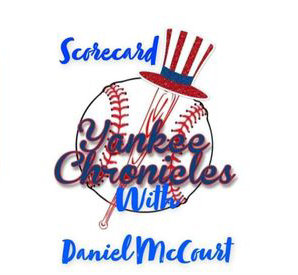 It was another painful lesson on how not to build a winner from the '80s when Bill Gullickson made his decision. During the 1987 season, the Yanks had traded Dennis Rasmussen, a young lefty with a great record in New York, to Cincinnati for righty Gullickson for what would become a failed stretch run (though that can't be blamed on Bill and his 4-2 mark in eight games). But he didn't like New York and, faced with a midnight January 8 deadline to sign a new contract with the Yanks, Gullickson inked a two-year deal with the Tokyo Giants instead. And in the case of Rasmussen, who had been 39-24 in New York over several seasons, who is to say how he would have performed had he remained? As it was, he finished up with a 52-53 post-Yankee record.
Hall of Famer Frank Chance had a fine playing career, and as a manager, and he piloted the Cubs to four pennants and two Championships, including their last one more than 100 years before they finally won it again in 2016. But his managing magic had run out before he took over the helm of the light-hitting Highlanders (Yankees) from Hal Chase on January 8, 1913. The team posted a 117-168 record over two seasons under Frank, finishing seventh in 1913 and sixth the following season.
Of 10 free agents who faced a January 8, 1987, deadline to re-sign with their former clubs or be barred from playing for them until May 1, Ron Guidry and Gary Roenicke were with the Yanks, and Tim Raines, Toby Harrah, and Doyle Alexander would be with the team in different years. The fact that these 10 players received no viable offers from other teams led to the Players' Association's first anti-collusion suit against the owners.
Of the eight January 8 Yankee birthdays, all belong to recent club members. Jason Giambi (1971) wore the no. 25 (2 + 5) in Mickey Mantle's honor. Despite a disappointing 2003 season and postseason, his two dingers in Game Seven of the ALCS win over the Red Sox were huge. But he broke down from admitted (to a grand jury) steroid abuse in 2004, simply because he wanted to play better. A lefthanded power hitter in The House That Ruth Built, Giambi would hit 209 home runs with 604 rbi's in the Bronx from 2002 through 2008. Any hope Yankee fans had that Carl Pavano's (1976) signing would be beneficial were quickly dashed by uneven performance, but more important both repeated injuries and a seeming lack of desire to overcome them. The "American Idle" would win nine and lose eight over four years for about $40 million.
The stoic and quiet Brian Boehringer (1969) got his start in the Bronx in 1995, and garnered a 5-9 win-loss record here during his initial three-year stay, plus a stop in 2001. Veteran southpaw Jeff Francis (1981) pitched in two games down the stretch in 2014, allowing two hits and a run in just under two innings pitched; Jeff posted a win in one of those games. And 2019 brought one more player into the Yankee birthday fold with the signing of second baseman Breyvic Valera (1992), whose main claim to fame, perhaps, is that he was one of five players the Dodgers sent to Baltimore for infielder Manny Machado for the stretch run in 2018. Selected off waivers from SanFran in May 2019, Breyvic appeared in 12 games for New York in 2019, and drove in three runs. 
Neither of the next two birthdaying players who have been with the Yanks actually played for them. Third baseman Shane Turner (1963), who signed with the Yanks as an amateur free agent in June 1985, was traded two years later with Keith Hughes to the Phillies for Mike Easler. Drafted by New York in the 16th round of the 1989 amateur draft, catcher Brian Johnson (1968) played mostly for the Padres and the Tigers from 1994-2001, during which time he amassed 49 home runs with 196 rbi's. But a player from the minors who arrived via trade (with two other minor league pitchers for Gary Sheffield in 2006), righty reliever Kevin Whelan (1984) got into two games in 2011, to no record. He got five outs, with a strike out, while allowing but one hit, but walked five; he surrendered one run.