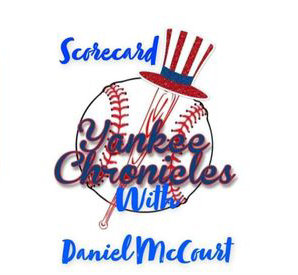 The San Diego Padres acquired the rights to Japanese pitcher Hideki Irabu on January 12, 1997, from the Chiba Lotte Marines. But the heavyset righthander refused to pitch for them and would force a trade to his first and only choice, the Yankees. He would have middling results in New York, with a 29-20 record from 1997-1999.
It was a sad moment for many a Yankee fan, myself included, when David Cone signed a contract with the Boston Red Sox on January 12, 2001. Coney had the reputation of being a "hired gun" back in 1994 when the Yanks first traded for him, but by 2000 he had become a real spokesman for the players on the club, and was a huge factor in their turnaround from pretenders to multiple champions in the late '90s.
It was the end of an era in New Jersey baseball history when the Yankees sold their Newark franchise, the once-proud Bears, to the Cubs on January 12, 1950. The Chicago National League rep relocated the team to Springfield, Mass. In recent years, former Yankee catcher Rick Cerone tried to re-create some of that New Jersey magic with his Independent Atlantic League Newark Bears. They would play under various arrangements until the team was dissolved after the 2013 season.
On January 12, 1984, free agent Goose Gossage ended his stay in Pinstripes by signing with the San Diego Padres. He had saved 150 games for the Bombers from 1978-1982, while posting a 41-28 win-loss record; was the 1978 Rolaids Reliever of the Year; and finished in third place in 1980 in the American League in both the Cy Young and the MVP voting. On the one hand, Goose has finally earned his place in the Hall of Fame, but on the other, his outspoken views have made him unwelcome at Yankee club facilities in recent years.
In a move that had been building for days, the Dodgers traded southpaw Tyler Olson and infielder Ronald Torreyes to the Yankees for third baseman Rob Segedin on January 12, 2016. Olson would pitch in one Yankee game in 2016, but backup infielder "Toe," Torreyes, found a home as he played in 221 games, hitting four home runs with 55 rbi's with the Bombers from '16 through '18.
Many thought that the signing of free agent first baseman Tony Clark by the Yanks to a one-year contract on January 11, 2004, became meaningless once the club acquired defensive specialist Travis Lee almost two months later, but you can never tell. Injury felled Lee after just seven games; incumbent first baseman Jason Giambi struggled with injuries and ineffective play; and Clark became a huge contributor, with 16 home runs and 49 rbi's.
It happens every Winter, and it leads to a buzz of Tampa activity every Spring. The 2007 Yanks made their biggest Spring Training invite to nonroster players on January 12. See what players register with you 14 years later: Jeff Nelson (not the veteran reliever), Andy Cannizaro, Angel Chavez, Raul Chavez, Tyler Clippard, Ben Davis, Eric Duncan, Brett Gardner, Phil Hughes, Steven Jackson, Ben Kozlowski, Ramiro Pena, Ross Ohlendorf, Peter Pilittere, Todd Pratt, Omir Santos, Jose Tabata, Marcos Vechionacci, Kevin Whelan, and Steven White.
Two Yankee catchers died on January 12. Joe McCarthy (1937), not the same-named manager, caught one game and had two at bats for the 1905 Highlanders (no rbi's) and 37 games for the Cardinals (two rbi's) in 1906; and Joe Smith (1974), whose only big-leagues play was in the 14 games he caught for the 1913 Yankees. Smith scratched five hits in 32 at bats, and knocked in two runs.
Late in the 2010 season the Yanks had a new entry to their January 12 birthday club when rookie Ivan Nova (1987) was called up and got seven starts once veteran Andy Pettitte missed six weeks due to a muscle injury. Grabbed by the Yankees in the 2004 amateur draft, Ivan went 1-2 in 2010, but was a rotation cog in much of the next three years, with 16-4, 12-8, and 9-6 marks from '11 through '13. But the inflated win totals never quite convinced the Yanks or their fans, and he was traded to Pittsburgh at the end of August 2016 for not highly rated minor leaguers Tito Polo and Stephen Tarpley. Ivan went 53-39 with one save in the Bronx, and has registered 90 wins with 77 losses through the 2020 season.
Two of the other Yankees born on January 12 were bit players on Yankee teams that were about to break out of long doldrums. Andy Fox (1971) was the 25th man on the 1996 team that brought the Championship back to New York after an absence of 18 years. Selected by the Yanks in the second round of the 1989 amateur draft, Andy hit three home runs, drove in 14 runs, and stole 13 bases in part-time duty in 1996 and 1997. Lefty-swinging outfielder Terry Whitfield (1953) played his 31 games in Pinstripes debuting for the team from 1974-1976 after being the 19th overall selection, and the Yankees' first, in the 1971 amateur draft. He managed seven rbi's for the Bomber team that in his last year made it back to the World Series for the first time in 15 years. Journeyman reliever Luis Ayala (1978) was an important innings eater out of the Yankee pen in 2011 once they signed him to a free agent contract that February and he made the club in Spring Training. Luis went 2-2 in 52 games. In nine seasons with six other clubs, Luis posted an overall 38-47 record with 19 saves.