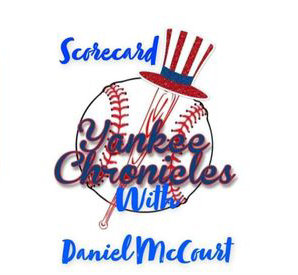 Twelve home runs and 204 rbi's over seven seasons. Three managerial stints: 34-22 prestrike in 1981; 14-12 post-strike; and 44-42 in 1982. No boldface numbers there. But few would dispute, despite those ordinary numbers, that the acquisition of Gene "Stick" Michael from the Dodgers on November 30, 1967, was one of the Yankee moves of the last third of the last century that had the most far-reaching positive effects. It was bad news to all of Yankee land, and baseball, when Stick passed away in 2017.
Yankee lefthander Dave Righetti rode his 8-4, 2.06-era 1981 season to that year's American League Rookie of the Year Award, granted to Rags on November 30. He would go on to post a 74-61 record with 224 saves in the Bronx from 1979 through 1990, led the league in saves in 1986, won two AL Rolaids Relief Awards, and came in fourth in the 1986 Cy Young voting and 10th in the MVP tally.
The Yankees signed free agent righty Mike "Moose" Mussina to a six-year contract on November 30, 2000. He would win 92 and lose 68 in those years, and 123-87 following a two-year extension through 2008. Granted, the 5-7 mark in the postseason was unsatisfying, but his 1-0 win-or-go-home victory over Barry Zito and the A's in Game Three of the 2001 ALDS (the Derek Jeter "flip" game), and his relief appearance in Game Seven of the 2003 ALCS (that made Aaron Boone a Yankee hero) against the Red Sox stand out as high points.
Good/bad Yankee transaction news on November 30, 2012: Coming off an injury, Mariano Rivera signed for 2013, his final season, and catcher Russell Martin sadly made it official by signing a free agent contract with Pittsburgh. The 2013 Yanks would need another catcher. (Spoiler alert: They would not find one.)
The Yankees signed free agent Kelly Stinnett to a one-year contract to be their backup catcher on November 30, 2005. The fact that Stinnett was released in favor of Sal Fasano before the season was over speaks volumes. Kelly stroked one Yankee home run, drove in nine runs, and hit to a .228 batting average.
With the door to the major leagues being cracked open for African Americans and other players of color, the bad news was that the Negro National League was disbanded on November 30, 1948.
Lefthander Slim Love (1942) is the only Yankee player to have died on November 30. The bulk of his career was the 91 games (39 starts) he pitched with the 1916-1918 Yankees to a 21-17-2 record.
Three of the seven Yankees born on November 30 played in the frustrating eighties, and one during the even worse late sixties; so even though the 1934-1935 teams that Jimmie DeShong (1909) pitched for failed to win it all, the five titles in the decade clearly place him on two Yankee clubs better than most of those the other birthdaying Yanks played on. DeShong went 10-8 in the Bronx. Tall, lanky lefty reliever Steve Hamilton (1935), famed for tossing a slow looping pitch which he called "the Folly Floater," had a taste of some good teams in his early years in the Bronx, and posted a fine 34-17 mark with 33 saves from 1963-1970. Bob Tewksbury (1960), a 19th-round Yankee amateur draft pick in June 1981 who was traded away when young pitching was in short supply, debuted to a 10-9 record with the 1986-1987 Yankees in a career in which he posted a 110-102 mark. Third baseman Barry Evans (1956) ended his play in the bigs by notching two rbi's in 17 games for the 1982 squad after four seasons with the Padres. Righty Steve Shields (1958) went 5-5 for the 1988 team in the middle of a five-year career that included stops in Atlanta, Kansas City, Seattle, and Minnesota. 
Catcher Tacks Latimer (1877) had one hit in four at bats in his only game for the 1901 Baltimore Orioles, the franchise that would relocate to New York as the Highlanders in 1903. First baseman/outfielder Craig Wilson (1976) hit just .212 in 40 games for the 2006 Yanks, with four home runs good for eight rbi's. Although outfielder Matt Lawton (1971), managed just two home runs and four rbi's in 21 games with the 2005 Yankees, one of the long balls won a big game down the stretch. Most of his 138 home runs with 631 runs driven in were posted with Minnesota.