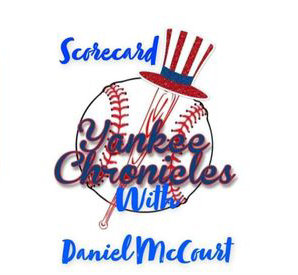 It was candy-bar time in New York, time to stir the straw. Free agent lefthanded power-hitting outfielder and future Hall of Famer Reggie Jackson signed a $3.5 million contract to play for the Yanks on November 29, 1976. Reggie had established his credentials in Oakland, played one season in Baltimore, and proved his worth in New York. He would become Mr. October by hitting three homers in the deciding Game Six of the 1977 World Series.
In a player move that did not work out nearly as well, the Yanks went hunting for a Mickey Mantle outfield replacement, shipping popular third baseman Clete Boyer to the Braves for Bill Robinson on November 29, 1966. Bill would amass a total of 16 homers and 90 rbi's in his 1967-1969 stay in the Bronx, numbers which Clete easily eclipsed in his first season with the Braves: 26 dingers, 96 runs driven in. Robinson would go on to have a good career as a reliable hitter and outfielder for 12 more years in the NL.
The re-signing of catcher Jorge Posada to a four-year deal on November 29, 2007, started off poorly, as he had 2008 shoulder surgery after collecting three home runs with 22 rbi's in 51 games. But in 2009, Jorge would catch 100 games, hit 22 home runs, and drive in 81. The final two seasons netted 32 long balls and 101 rbi's.
Infielder Phil Linz, with his 1965 batting average dipping to .207, was shipped to the Phillies for Ruben Amaro on November 29, 1965. Phil managed two homers with 29 rbi's over the next three seasons with the Phils and the Mets, while Ruben only notched one dinger and 22 rbi's in the Bronx, but to a higher batting average.
Commissioner Bowie Kuhn's punishment to Yankee Manager Billy Martin for his fight with a marshmallow salesman the month previous, announced on November 29, 1979, netted Martin just a warning. And in an indication of just how tumultuous Billy's career was, on this same day in 1966, a Chicago jury awarded Jim Brewer with $100,000 in damages stemming from an on-field altercation with Martin in 1960.
In the last few decades, two former players with Pinstripes on their resumes died on November 29: hurler Pete Mikkelsen in 2006, and first baseman Vic Power in 2005. Mikkelsen, a Yankee draftee, was traded to Pittsburgh for Bob Friend in December 1965 after having won 11, lost 13, and saved 13 pitching 91 games (just three starts) in two years in New York. And although he was originally a Yankee once the team purchased his contract, Power was traded before ever playing with New York. The front office considered Vic too controversial to be one of the first African American players in New York, and he was traded to Kansas City in December 1953. A stellar defender, Vic would stroke 126 home runs in 12 seasons, good for 658 runs driven in. 
Six more Yankee player deaths lead off with that of lefty-hitting outfielder Bob Bescher (1942), who had 12 rbi's on 53 hits in 54 games for the 1905-1906 Highlanders. Outfielder Tuck Stainback (1992) homered five times and drove in 23 runs in 211 games for the 1942-1945 Yankees. Third baseman Charley Smith (1994) -- tragically garnered in a trade that sent the great Roger Maris packing -- hit 10 home runs with 45 rbi's in New York in 1967-1968, an output that would not replace that of Maris, even in the later diminished years that were to come. First baseman Bob Unglaub (1916) debuted with the 1904 Highlanders, netting two runs knocked in on 4-for-19 hitting in six games. Righthander Al Cicotte (1982) won, lost, and saved two games each while debuting with the 1957 Yanks in 20 games (two starts). And finally, lefty-hitting righthanded pitcher Jim Turner (1998) ended a 1937-1945 career by pitching 88 games (no starts) with the Yanks the last four years to an 11-9 mark with 19 saves.
There are seven Yankee November 29 births, but one stands head and shoulders above most who have ever worn the uni. Mariano Rivera (1969), indisputably the greatest postseason closer in major league history, perhaps the greatest closer ever, was selected by the Yankees in the 1990 free agent draft, and it is a disgrace that he never earned a Cy Young nor an MVP Award. Mariano went 3-3 with 44 saves in 2009, a year that he was the only postseason closer among the eight partaking teams who did not fail his team in the clutch in those playoffs. He followed with 44, 33, 44, and 44 saves in 2009, 10, 11, and 2013, around a five-save 2012 almost totally lost to a freak injury. Rivera recorded 652 career saves, and stands as the only player to ever be inducted into the Hall of Fame unanimously, receiving all 425 first-place votes, in 2019.
Lefty-hitting DH and outfielder Mike Easler (1950) smacked 18 Yankee homers and drove in 99 runs in finishing his career in the Bronx in 1986-87, and outfielder Otto Velez (1950) started his career with the Bombers by hitting six home runs and driving in 28 runs from 1973-1976. Long Tom Hughes (1878) posted a 7-11 mark with the 1904 Yanks, after having compiled a 7-5 mark with the 1902 Baltimore Orioles team that would move to New York as the Highlanders in 1903. Lefty-hitting outfielder Irv Noren (1924) hit a respectable 31 dingers with 208 rbi's with the 1952 through 1956 Yanks. In his lone appearance, a start for the 1917 Bombers, righty Jack Enright (1895) surrendered five hits and five runs (three earned) in five innings; he took the loss. In his only three big league games, shortstop Jack Wanner (1885) notched one hit in eight at bats with one stolen base for the 1909 Highlanders.