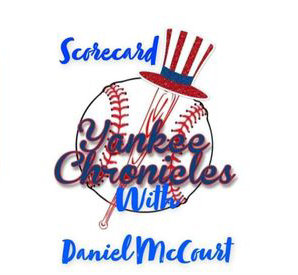 In a great trade that helped set up their fabulous run in the late seventies, the Yanks sent catcher Johnny Ellis, infielder Jerry Kenney, and outfielders Charlie Spikes and Rusty Torres to the Indians for third baseman Graig Nettles and catcher Gerry Moses on November 27, 1972.
On a day for former Yankees, first baseman Greg Bird elected free agency; while the White Sox signed free agent righthander Brady Lail to a minor league contract and invited him to spring training, both on November 27, 2019.
The November 27, 1993, swap the Yankees made for Xavier Hernandez of the Houston Astros was accompanied by a great deal of hoopla, but his resulting 1994 numbers (4-4 with six saves) were disappointing. Neither player the Bombers sent southwest, pitcher Domingo Jean nor infielder Andy Stankiewicz, had much impact in Houston. Jean never made the Astros' roster; "Stanky the Yankee" contributed one home run and 21 rbi's in spot duty over three seasons.
He would put up just an 11-10 mark in 2007, but the Yankee move to re-sign righty starter Mike Mussina to a two-year contract on November 27, 2006, was a good one, as Moose turned it all around with his first 20-win season in 2008.
Joe DiMaggio rode his 56-game hitting streak to a win of the American League Most Valuable Player Award over Boston's .406-hitting slugger Ted Williams on November 27, 1941. Many consider it a choice of the "streak" over the last plus-.400 season. But perhaps another factor was that although the Sox did come in second in 1941, it was 17 full games behind the Yanks.
Baseball Commissioner Bowie Kuhn suspended Yankee owner George Steinbrenner for two years on November 27, 1974, as a result of his conviction for making illegal campaign contributions to the Richard Nixon campaign.
Outfielder Dave Winfield and pitcher Ron Guidry represented the Yankees on the 1984 American League Gold Glove team announced on November 27.
Lefty-hitting righthander Clem Llewellyn (1969) is the only Yankee player to have died on November 27. He pitched his only big league game (not a start) for the 1922 Yankees, to no record.
There are six November 27 Yankee birthdays. Bullet Joe Bush (1892) posted an excellent 62-38 mark with four saves in New York from 1922-1924 after six years with the Philly A's and four with the Red Sox and before one season each with the Senators, the Pirates, the Giants, and the A's again. He finished with a career record of 195-183. Lefty Bill Short (1937) went 3-5 in 10 games (all starts) for the 1960 Yankees in his major-league debut, after they signed him as an amateur free agent before the 1955 season. Johnny Schmitz (1920) batted righty but threw from the southpaw side, and posted a 1-1 mark in eight games with the '52-'53 Yanks in a 16-year career (1941-1956), most of which he spent with the Chicago Cubs. 
The list of (barely) active Yankees born November 26 went up one in 2008 when they acquired future Hall of Fame catcher Ivan Rodriguez (1971) late in the season. But Ivan must have been pressing trying to impress his new team. Not only did he only hit two home runs for just three rbi's in 33 games, he had trouble throwing runners out too. After years as the starter behind the plate in Texas, Ivan won a Championship with the Marlins in 2003 and started on the 2006 Tigers team that lost in the World Series. Lefty reliever Raul Valdes (1977) is another guy with minimal pinstriped game experience once he signed as a free agent in August 2011. Raul, who posted a 6-6 record with one save with the Mets, Cardinals, and Phillies, had no wins, losses, or saves with the Yanks in six games in 2011. And finally, righthander Jason Beverlin (1973) spent years in the Yankee organization without ever playing with the parent club in a regular-season game. He came over from the Oakland Athletics with Ruben Sierra in a July 1995 trade for Danny Tartabull. Granted free agency in October 2000, Beverlin went 0-3 in seven games (three starts) with the Tigers in 2002.