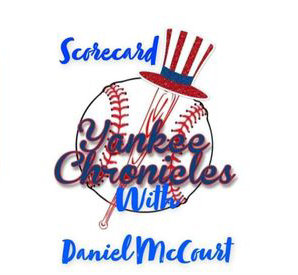 After hitting 165 homers during his first nine years in the bigs with the Yanks, Moose Skowron was traded to the Los Angeles Dodgers for pitcher Stan Williams on November 26, 1962. Williams was a more valuable member of the pitching staff in New York in the next two years than his 10-13 win-loss mark might lead one to believe. Skowron's output, on the other hand, fell to four homers, 19 rbi's, and a .203 ba on the left coast in 1963. Then in something of a win/win for faithful Yankee fans, Moose would recover to have four decent years with the White Sox, once he was no longer playing for the rival Dodgers.
Catfish Hunter met with Charley Finley and an arbiter on November 26, 1974, in a meeting that had to do with Hunter's breach-of-contract claim. Hunter would win his freedom and use it to sign with the Yankees in another month.
When Red Sox slugger Jackie Jensen won the American League Most Valuable Player Award on November 26, 1958, he outpointed Bob Turley (233 to 191) of the Yankees and Cleveland's Rocky Colavito (181).
Super baseball fan and cartoonist Charles Schulz was born on November 26, 1922.
One claim to fame as the first city to host a baseball game in an enclosed field is that of the city of San Francisco, which held one at the corner of 25th and Folsom on November 26, 1868.
November 26 is the second consecutive day that a Yankee Hall of Famer was born, after Joe DiMaggio yesterday. Lefty Gomez (1908) played almost every game in his big-league career with the Yankees, as he posted a 189-101 record in the Bronx from 1930-1942. He was purchased from New York by the Boston Braves in January 1943, but subsequently pitched in — and lost — just one game, for the 1943 Washington Senators. Free spirit Gomez also managed to save six games in Pinstripes, and boasts a 6-0 mark in games during five World Series.
After being drafted in the sixth round in 1990 by the Yanks, young Sam Militello (1969) showed early promise, but injuries cut short his career after a 4-4 mark in 1992-1993. Jay Howell (1955) struggled to a 3-8 record with the 1982 and 1983 Yanks, but in 1984, he turned in a 9-4, seven-save season. One big splash in Howell's career is that in December 1984, he was packaged with three pitchers and an outfielder to the Oakland Athletics for Rickey Henderson. 
Southpaw Larry Gura (1947) struggled under an unhappy (with him) Billy Martin in posting a 12-9 win-loss record in the Bronx in 1974 and 1975, and got his finest revenge by pitching effectively for the Yanks' main rival at the time, in Kansas City from 1976 through 1985. The Yanks got Gura with cash from the Texas Rangers for Duke Sims in May 1974, and traded him to the Royals for Fran Healy exactly two years later. The major league experience of lefthander Matt Tracy (1988), who was drafted by the Marlins in 2010, then the Yanks in 2011, consists of one game pitched for the Yankees in 2015, to no record.
Although he never played with the Yankees, honorable birthday mention goes to righthander Jhonny Nunez (1985), who celebrates his birthday one day after Nick Swisher, as Jhonny was traded with Jeff Marquez and Wilson Betemit to the Chicago White Sox for Swisher in late 2008. Jhonny posted no record in five games for the White Sox in 2009.