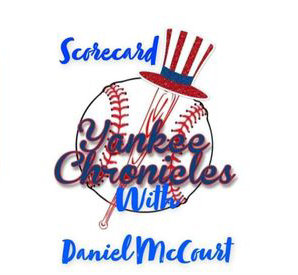 Mickey Mantle edged Ted Williams in the voting, 233 to 209, for the American League Most Valuable Player Award on November 22, 1957. The vote was controversial, but to many The Mick earned his second of three MVPs because he led his club to the pennant; Ted's Sox were not a factor, 16 games back in third place.
The Yankees signed southpaw Tommy John as a reentry free agent on November 22, 1978. The man with the famous surgery named for him would win 43 games for the Bombers in the next two years.
Lefthanded outfielder Oscar Gamble was a key performer for the 1976 Yanks after they traded pitcher Pat Dobson (see below) to the Indians for him on November 22, 1975. Oscar, who hit 17 long balls with 57 rbi's for that pennant-winning squad, added 74 home runs and drove in an additional 239 in a 1979-1984 return to the Yankee roster. Oscar passed away in January 2018.
Randy Velarde, who had knocked in the go-ahead run in the 11th inning of the fifth game of the 1995 ALDS vs. Seattle, before Ken Griffey. Jr., and Edgar Martinez rained on the Yankee parade, signed a three-year free-agent contract with the Anaheim Angels one month later on November 22, 1995.
1976 ALCS Yankee hero Chris Chambliss won the American League Rookie of the Year Award as a Cleveland Indian on November 22, 1971.
Righthanded starter Pat Dobson, who threw to a 122-129-19 record in 11 seasons, passed away on November 22, 2006. Pat, who went 39-37 for the Yanks from 1973-1975, was acquired from Atlanta, and eerily, his subsequent trade from New York to Cleveland (see above) took place on November 22, 1975, the reverse anniversary of his future death. Lefty-hitting outfielder Roy Carlyle (1956) ended his career playing 35 games for the 1926 Yankees. He cleared no fences but drove in 11 runs on 20-for-52 hitting. Righthander Dick Carroll (1945) pitched just two games (one start) in the bigs, both with the 1909 Highlanders, to no record.
Many of the 10 Yankees born November 22 are well known even today. The addition to the Yankee roster of righty reliever Adam Ottavino (1985) in 2019 was a huge plus, although he struggled in the stretch and in the post. Adam had posted a 17-18 record with 17 saves for the Rockies from 2012-2018, when the Yankees signed him as a free agent. A strike out pitcher with a big slider, Ottavino went 6-5 with two saves for the Yankees in 2019, but the bizarro 2020 season was a bad one for him, and he sadly pitched .67 of an inning, in one appearance, in the post; he went 2-3 in the regular season. A defensive specialist, the Yanks got backup catcher Austin Romine (1988) in the second round of the 2007 amateur draft, and he arrived in the Bronx in late 2011. Austin had three hits in 19 at bats while playing in nine games that year, then played mostly in the shadow of Francisco Cervelli. Romine had a bounce-back season in 2016, serving as backup catcher all year, collecting four long balls and 26 rbi's playing behind Brian McCann, then later phenom Gary Sanchez. His Yankee numbers when he was signed as a free agent by Detroit in December 2019 stood at 25 home runs, 135 rbi's. He added two and 17 with the Tigers in 2020. 
While failing to emerge into the stardom for which some felt he was destined, lefty outfielder Ricky Ledee (1973) smacked 17 Yankee homers and drove in 83 runs from his 1998 debut until his 2000 trade to Cleveland for David Justice. Ricky had an excellent 1998 World Series against the Padres. The highlight of portsided reliever Lee Guetterman's (1958) stay in the Bronx was the 13 saves in 1989; he both began and ended his career in Seattle, and amassed a 21-19 Yankee record with 21 saves from 1988 through 1992. Switch-hitting infielder Wayne Tolleson (1955) ended his time in the bigs with two homers, 16 stolen bases, and 54 rbi's for the Yanks from 1986 through 1990 after five years in Texas. Third baseman Rich McKinney (1946) was not only famously ineffective at the hot corner in 1972, making eight errors while hitting one homer with seven rbi's in 33 games, he also cost the Yanks pitcher Stan Bahnsen in the December 1971 trade that brought him to the Bronx.
The four remaining players born this day played only a handful of games with the Bombers, with lefty-hitting outfielder Harry Rice (1901) being the exception with seven homers and 74 rbi's in 1930. Lew Burdette (1926) probably topped his great career (203-144 from 1951-1967) when he led the Braves to a World Series victory in seven games over the Yanks in 1957, but he got his start in the Bronx, posting no record in two appearances in 1950. A 1947 Bombers draft choice, Lew was traded to the Boston Braves in August 1951 for Johnny Sain and cash. Pi Schwert's (1892) 12 games for the 1914-1915 Yanks was his only major league experience, during which time he managed six rbi's; and lefty Wade Blasingame (1943) went 0-1 in 12 games for the '72 club in his big-league finale after three seasons in Milwaukee, two with Atlanta, and six with Houston.