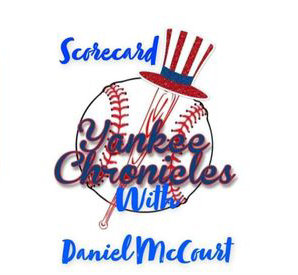 Though few historians refer to it this way any longer, the franchise that is the New York Yankees came into existence when the American League Baltimore Orioles ballclub was incorporated on January 4, 1901, with John McGraw as manager and part owner. McGraw would already be in New York piloting the National League Giants by the time the franchise was moved to the city on the Hudson River two years later to start the 1903 season, first as the Highlanders and later as the Yankees.
The Yankees purchased the contracts of shortstop Lyn Lary and infielder Jimmie Reese from Oakland of the Pacific Coast League on January 4, 1928. Lary would blast 21 homers with 237 rbi's and 42 stolen bases from 1929-1934, and Reese would kick in with six dingers, 44 runs driven in, and three stolen bases over two seasons in New York. Lary's 107 rbi's in 1931, by the way, still stand as the highest season total for a Yankee shortstop.
World War II was a difficult time in the land, and in baseball. Yankee Hall of Fame pitcher Red Ruffing, almost 38 years old and minus four toes, was drafted into the Army Air Corps on January 4, 1943. The aging righty had compiled a 219-120 record in New York from 1930-1942; he would earn just 7-3 and 5-1 marks to close his Yankee career once he returned for the 1945 season.
On January 4, 2019, the Yankees designated righthander A.J. Cole for assignment. The team also signed free agent shortstop Troy Tulowitzki.
On January 4, 2016, the Pittsburgh Pirates invited non-roster outfielder and (briefly) one-time Yank Antoan Richardson to spring training. Antoan was not with the Yankees in '15 or '16, but he earns some love for having scored the run that was the final home rbi of Derek Jeter's career, in his last game ever as a shortstop, in 2014. It was a walkoff game winner.
The swap of pitcher Joe Beggs to the Reds for sore-armed lefty Lee Grissom on January 4, 1940, was a real stinker. Grissom would post no record in five games in the Bronx, while Beggs went on to compile a 42-20 mark in Cincinnati from 1940-1947. Ex-Yank Grissom would also make news on this day in 1952, when he was acquitted of manslaughter charges following a barroom fight in 1950.
Two players with very short Yankee resumes and one Hall of Famer passed away on January 4. Hurler Foster Edwards (1980) threw to a 6-9 record from 1925-1930, mostly with the Braves, with the last two appearances being for New York. And catcher Tony Rensa (1987) played throughout the 1930s, and he hit seven home runs with 65 rbi's, but he knocked in just three runs for the 1933 Yankees in eight games. Rensa played the majority of his games for the White Sox. And lefty-hitting first baseman Roger Connor (1931), enshrined in the Hall, may have been the most feared power hitter in baseball before Babe Ruth, with 138 home runs (and 1,322 rbi's) from 1880 to 1897, much of it with the Giants, the Browns, and the Trojans.
We'll lead off the January 4 birthdays with lefty Ted Lilly (1976), stolen from the Expos in the Hideki Irabu trade, then (sadly, to many) shipped west for Jeff Weaver later. Lilly pitched well in the Bronx, but in bad luck, leaving after having posted an 8-12 mark from 2000-2002. He pitched several years for the NL Cubs, then the Dodgers, and retired in 2013. Based on playing time and achievements, lefty-hitting outfielder George Selkirk (1908) really should have received first mention here. George's entire 1934-1942 career was spent with the Bombers, during which time he blasted 108 homers, drove in 576 runs, and stole 32 bases. A two-time All Star, Selkirk drilled two home runs in the Yankees' six-game World Series win over the Giants in 1936. He played in six October Classics, and the Yankees won five of them.
Righty Tom Gorman (1925) debuted in the Bronx with a 10-7 mark and nine saves from 1952-1954 before finishing things with five years for the A's after the Yankees sold his contract to K.C. in March 1955. Lefty thrower Paul Gibson (1960) made no starts in his 54 games for the 1993-1996 Yanks, with a 3-1 win/loss record. Paul had already thrown three years for the Tigers and two for the Mets. Lefthanded outfielder Daryl Boston (1963) played for both New York teams too, finishing a career that featured seven years with the White Sox and one with the Rockies by hitting four homers and driving home 14 for the 1994 Yankees after inking a free agent deal with them that January.
Infielder Blondy Ryan (1906) knocked in 11 runs for the 1935 Yanks and played one year each with the Phillies and the White Sox and four with the Giants. The Yankees purchased Ryan from the Phillies in August 1935. Lefthanded outfielder Klondike Smith (1887) played for the New York AL team only, appearing in seven games for the 1912 Yanks, with five hits in 27 at bats. The 2014 season brought a new pinstriped birthdayer, infielder Scott Sizemore (1985), signed as a free agent that January. Unfortunately, Scott suffered injuries in Spring Training, delaying his callup, and he ended up playing just six games, during which he drove in four runs, before being released.