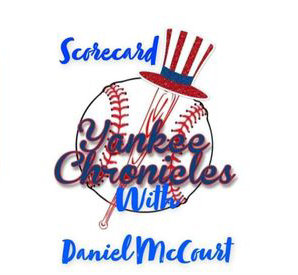 On January 14, 1954, a world-famous Yankee player made headlines yet again. But this was truly huge news. This was the day that Joe DiMaggio and actress and icon Marilyn Monroe tied the knot.
Yankee management and their fans had to go to school on the game as played by Hideki "Godzilla" Matsui once the Bombers signed him to a three-year contract on January 14, 2003. Expecting a lumbering 40- or 50-home run outfielder, instead they received a heady and skilled outfielder with some power and a dynamite rbi bat. After stroking 70 home runs good for 330 rbi's in three years, Matsui re-signed for another four, but his '06 campaign was largely lost to a broken wrist in May. Although he was AL Player of the Month for July in 2007, another 100-rbi season, the end of that year and his 2008 season were affected by an injuries to both knees. Responding ready and healthy for 2009, he had solid rbi numbers, then won the World Series MVP Award in the Yankee six-game triumph over the Phillies, largely on the strength of a six-rbi game in the final contest.
On January 14, 2019, the Yankees made what turned out to be a huge move, signing free agent second baseman DJ LeMahieu. He would finish fourth, then third, in back-to-back AL MVP votes in 2019 and 2020, and the Yankee/DJ "perhaps re-signing dance" has driven fans crazy for the last few months.
The Yankee minor-league free agent signing of first baseman Ji-Man Choi, with an invite to spring training, on January 14, 2017, actually led to some important — though limited — reps in the Bronx. Greg Bird injuries and the ineffectiveness of Chris Carter created an opportunity, and Choi would hit two home runs and drive in five runs in six games for the Yanks that year. Choi has blossomed into a starting first baseman with the rival Rays the last three years.
Given the nonsigning of star second baseman Robinson Cano, Yankee fans looked upon the move with some hope when the club signed free agent second sacker Brian Roberts on January 14, 2014. Despite five injury-plagued years in Baltimore, where formerly Brian had proved a valuable two-way ballplayer, a late 2013 surge had him looking healthy and ready to go. His health would hold up, but not his game, and the Yanks were forced to release him midseason.
On January 14, 2016, the Yankees signed free agent righty Anthony Swarzak to a minor league contract. Swarzak would spend time with the Yanks, going 1-2 in 26 games with some success, but he gave up back-breaking home runs in several dispiriting losses down the 2016 stretch.
On January 14, 1987, the roster of Hall of Fame players grew by two: Billy Williams of the Cubs, and Jim Catfish Hunter, who finished his fabulous career with the Yankees. Catfish posted a career win/loss mark of 224-166 and led the Yanks back to postseason play in 1976. His tremendous stretch run in 1978 was a big factor in New York's making up the 14-game deficit to Boston. Catfish, who had a Perfect Game to his credit and five World Series rings, would succumb to Lou Gehrig's Disease at the age of 53.
As the teams of the two-year Federal League were being disbanded, the Brooklyn Tip-Tops sold the contract of player/manager Lee Magee to the Yankees on January 14, 1916. An outfielder, Lee hit three homers, knocked in 53 runs and stole 32 bases over the next two seasons in American League New York action.
Johnny Murphy was the Mets general manager when they ran the table in 1969, but he was even more effective in the Yankee bullpen as a player from 1932-1946, during which time he fashioned a 93-53 record and notched all but three of his 107 career saves. To consternation and mourning in both New York clubhouses, Murphy died of a heart attack on January 14, 1970. In other January 14 Yankee deaths, righthander Eli Grba (2019) had posted an 8-9 mark with one save, appearing in 43 games, 15 of them starts, with the 1959 to 1960 Yankees. After a 1961-1963 stint with the Angels, his overall record stood at 28-33 with four saves. Lefty Tex Neuer (1966) posted a 4-2 mark in seven games (six starts) for the 1907 team, his only major league action. But in some ways, first baseman John Ganzel (1959), who hit nine homers with 54 rbi's playing in 259 games for the 1903-1904 Highlanders, could be the star of this day's history. On May 21, 1903, Ganzel hit the first ever Yankee home run, an inside-the-park blast in Detroit.
William Bendix, the film actor who played Babe Ruth in The Babe Ruth Story, and who also starred as umpire 'Two Call' Johnson in the zany Kill the Umpire!, was born on January 14, 1906. William picked the right day to be born, as no players who have taken the field as Yankees were born this day.
The short list of players born January 14 who spent time with the Yanks but never played for them starts with outfielder Mike Frank (1974), who knocked in seven runs while playing for the 1998 Cincinnati Reds, and who came to New York in the July 2000 trade that brought Denny Neagle here for Ed Yarnall, Drew Henson, Brian Reith, and minor leaguer Jackson Melian. A player whose major league listings ended when the Yankees released him in 2018, righthander J.R. Graham (1990) was purchased from Minnesota in early 2016, and pitched in the Yankee minors for two years. J.R., who went 1-1 with the Twins in 39 games in 2015 (and one more in '16), was a fourth round pick by Atlanta in the 2011 amateur draft, and was then taken by Minnesota in the 2014 rule-V draft. Finally, second baseman Billy Parker (1947) was drafted by the Yanks in the 1973 rule-V draft after he had hit three homers and knocked in 21 runs playing intermittently during the three previous seasons for the California Angels.