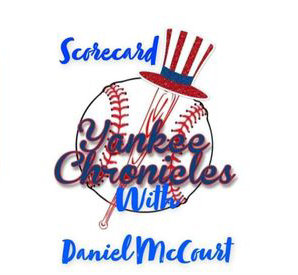 We don't usually start these daily reports with this, but will make an exception on January 1. Five one-time Yanks have passed away on January 1, and righthander Don Larsen slips into first among these, alerting fans, and people of all walks of life paying attention to baseball signals, that a bad year had begun once he succumbed on January 1, 2020. Before the year would come to an end, the following [sometimes] Hall of Famers and [always] iconic baseball figures (represented alphabetically) would join him: Dick Allen, Lou Brock, Tony Fernandez, Whitey Ford, Bob Gibson, Al Kaline, Lindy McDaniel, Joe Morgan, Phil Niekro, Tom Seaver, and Bob Watson.
Mr. Larsen pitched from 1955 through 1959 in the Bronx during his 1953-1967 career. He tossed three years for the Giants, two each with the Orioles and the A's, with five other brief stops to an overall 81-91 record with 26 saves. But he'll always be most known for his 45-24-6 mark in pinstripes, and the Perfect Game he threw in the 1956 World Series. Hall of Famer Wee Willie Keeler, who played for the Highlanders from 1903-1909, died on January 1, 1923; and lefty reliever Paul Lindblad, whose seven relief appearances for the 1978 Champions ended his 14-year career, succumbed on this day in 2006. Keeler hit 10 of 33 career homers, knocked in 128 of 810 runs, and scored 482 of the 1,719 runs he tallied with the Highlanders. Lindblad already had recorded all of his career 68 wins, 63 losses, and 64 saves before arriving in the Bronx. An outfielder from 1923-1933, Harry Rice hit seven homers with 74 rbi's playing 100 games for the 1930 Yanks; he accumulated 48 long balls and drove in 506 runs after serving five years with the Browns, three with the Tigers, and brief stops with two other teams, before he died on this day in 1971. Finally, Ernie Koy, who was originally a Yank but was traded to the Dodgers before ever playing in Pinstripes, passed away on January 1, 2007. He homered 36 times and drove in 260 runs over five seasons for NL teams.
Lee MacPhail began his baseball career as a business manager for Reading in the International League in 1941, then graduated to the Yankee organization. He started with an 11-year reign as director of player personnel in 1948, proudly filling that role for a team that was winning nine pennants during the time. He then moved to Baltimore, and built a World Series winner (1966) before returning to the Yanks as executive vice president until 1973. On January 1, 1974, he replaced Joe Cronin as president of the American League. And in other January 1 League news, Chub Feeney became president of the National League in 1970.
Before being renamed the Nationals and moving to Washington, the Montreal Expos played in several venues for a few years, and hosted enough games in Puerto Rico for the public to become familiar with Hiram Bithorn Stadium. Former major-league pitcher Hiram Bithorn, who had last pitched in the bigs in 1947, died at the age of 35 under mysterious circumstances in Northern Mexico on January 1, 1952. The stadium in Puerto Rico was named for him. In other January 1 Stadium news, Detroit changed the name of Briggs Stadium to Tiger Stadium in 1961; and this was the day in 1927 that Charles Ebbets announced he had purchased the land on which he would build his field. Lastly, Cleveland unveiled the new Jacob's Field with a New Year's Event in 1994.
The Yankees play in the Bronx while being officially named the New York Yankees due to what took place on January 1, 1874, when the Bronx was incorporated into New York City.
The legendary Hall of Fame Negro Leagues power hitter and catcher Josh Gibson had just turned 32 when he suffered a nervous breakdown on January 1, 1943. He recovered in time for the upcoming baseball season, but Gibson's health problems would continue, and he would succumb to a stroke at the age of 35.
Although there are four January 1 Yankee player birthdays, the most recent belongs to lefthanded first baseman Earl Torgeson (1924), who ended up his 15-year big-league stay by getting two hits in 18 at bats during 22 games for the 1961 Bombers. He played with the Braves (six years), Phillies (2.5), Tigers (2.5), and White Sox (4.5), and signed with New York as a free agent in June 1961. Righthander Charlie Devens (1910) managed five wins in eight decisions with the 1932-1934 Yanks, in his only major-league work. He pitched in 16 games, and started 10 of them. Outfielder Rudy Bell (1881) also exclusively plied his big-league trade in New York, garnering three rbi's and stealing four bases in 17 games for the 1907 Yanks. Ned Garvin (1874) ended his playing days with the 1904 Highlanders with an 0-1 mark after pitching for, among others, Philly, Chicago, and Brooklyn from 1896 to 1904. Garvin was selected by the Highlanders off waivers from the Brooklyn Superbas in September 1904.
The list of other players of note who were born on this day starts with what at first sight appears to have been a Yankee blunder. Owner of a 98-68 record and the 1983 American League Cy Young Award winner, LaMarr Hoyt (1955) was originally signed as a free agent with the Yankees, even though he never pitched for the team. But before you mark this one up to another bad Yankee move of trading away young pitching, most Yankee fans would still be OK with the trade, once they learn the details. He was sent to the White Sox as the 1977 season began (along with minor leaguer Bob Polinsky and Oscar Gamble) for eventual 1978 playoff hero Bucky Dent. And also worthy of note here is the birthday of famed New Yorker and Hall of Famer Hank Greenberg (1911), who blasted his 331 homers with 1,276 rbi's, and 58 stolen bases almost totally for the Detroit Tigers, although he played his last year for the 1947 Pirates.