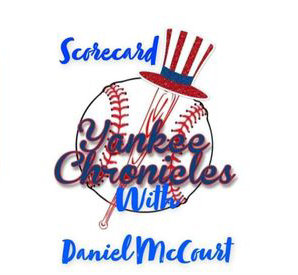 A successful lefthanded hurler with a Perfect Game under his belt, Yankee fans were [wrongfully] delighted when the team penned free agent Kenny Rogers to a four-year deal on December 30, 1995. And although his regular-season performance didn't really rise to the level that the numbers show (18-15 in two years in the Bronx), his performance wasn't disastrous until the 1996 postseason. Amazingly, although the Yanks fell behind by several runs early in each game the Gambler started, they showed enough resilience and won all three Series that year anyway.
To view the swaps that the Yanks made on December 30-31, 1940, a fan needs to realize they were trying to shed players with lessened upsides to make room for new blood. For instance, the trade of stalwart starter Monte Pearson to the Reds for outfielder Don Logan had more to do with moving a sore-armed starter than acquiring a fringe player. So although Logan would not resurface in the bigs until 1948 with the Cardinals, Pearson, with 63 wins and 27 losses in the Bronx from 1936-1940, bombed at 1-3 in Cincinnati. Also, Bump Hadley had teamed with Pearson to the tune of 49 wins and 31 losses (with six saves) during the same five seasons, but he would finish with a two-year mark of 5-6 after the Yanks sold him to the Giants for the waiver price.
In a swap of "Babes," the Phils traded first baseman Babe Dahlgren to the Pirates for catcher Babe Phelps on December 30, 1943. Dahlgren had played 327 games for the Yanks from 1937-1940, with 27 homers, 163 rbi's, and three stolen bases, but his greatest claim to fame was when he replaced Lou Gehrig at first base on May 2, 1939, in the game that ended the Iron Horse's consecutive-games-played streak. Dahlgren hit one of his homers that day.
A 1907 Commission led by eventual Hall of Fame pitcher and Manager Al Spalding reported on December 30 that Abner Doubleday had invented the game of baseball in the town of Cooperstown, New York, in 1839. The evidence for this was a since-refuted eyewitness account in a letter from a Mr. Graves from Akron, Ohio. Spalding, by the way, had fashioned a 253-65 record pitching from 1871-1877, and managed the National League-winning 1876 Chicago White Stockings (the eventual Chicago Cubs), and became a sports equipment manufacturer once his playing days were over.
Lefthanded outfielder Wilbur Good (1963), who debuted in the bigs by playing five games for the 1905 Highlanders, is the only Yankee player who has died on December 30. Good had three hits in eight at bats in New York with no rbi's, but after playing mostly with the Cubs and the Indians from 1908-1918, he had accumulated nine home runs and 187 runs driven in.
Hard-throwing youngster Danny Burawa, who was born on December 30, 1988, got the briefest chance with the parent pinstriped club in 2015 after being selected in the 12th round in 2010, but his debut became a two-hit, one walk, then grand slam to the Phillies' phenom Maikel Franco in 2/3 inning to break a tie, and his Yankee career was over. Atlanta claimed Burawa on waivers in August, and he pitched to a decent era (3.78) in 12 games down the stretch.
There were no Yankee birthdays on December 30 until that 2015 season, but we'll skewer things a bit by focusing on a Yankee sibling, ex-Manager Joe Torre's older brother, Frank Torre (1931). Frank was a lefthanded first baseman who played five years in Milwaukee and then two for the Phillies, stroking 13 homers, with 179 rbi's and four stolen bases during that time. A member of the 1957-1958 Braves that won, then lost, the World Series in seven-game battles with the Yanks, Frank's gritty style may best be exemplified in his only two top-ten offensive-category finishes in his career; he came in third and then fourth in being hit by a pitch in those same two seasons.
Righthander Cesar Vargas (1991) gets honorable mention on the Yankee list because the team signed him as a free agent in 2009, his first contract with a big-league club. But granted free agency in November 2015, Vargas was grabbed by the Padres, a team that believed in him, at least for a while, because all seven of his appearances in 2016 were starts. He finished 0-3 with a 5.09 era for a not very good team.
Hall of Fame lefty for the Dodgers Sandy Koufax (1935) stands head and shoulders over other December 30 baseball birthdays. Sandy posted a 165-87 mark pitching for but one team, though in two cities, from 1955-1966.