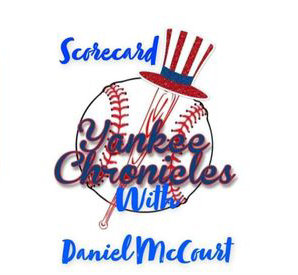 Nobody's career enjoyed a higher peak for a longer time perhaps than Babe Ruth, but there was many a sad day in its waning years. After having his seven-year, 40+-home-run streak snapped during the just completed 1933 season (he cleared 34 fences, and drove in 104), Babe was looking for a job managing. He had already hit 686 dingers with 2,117 rbi's, and had been offered the managing job in Cincinnati. But Yankee owner Jacob Ruppert refused The Babe's request for a release from his contract on December 29, 1933. Ruth would play one more year in Pinstripes and one for the Boston Braves, and never get that managing job he so craved.
There would be more issues with injury than effectiveness once the Yanks reached agreement with righthander Jaret Wright to a three-year contract on December 29, 2004. But Wright's 11-7 mark in '06 was not enough to make up for a 5-5 season with a 5.00-plus era in an injury-riddled '05. He was traded to Baltimore for the 2007 season, where he again was ineffective and injured most of the time.
With the signing of Andy Pettitte by the Astros in 2003, obvious parallels exist with the Red Sox signing of ex-Yank Ramiro Mendoza on December 29, 2002, but stark differences are apparent too. Both pitchers had plied their talents for the Bronx-based club only, both were with the team for the full Joe Torre-led run of success until their signing elsewhere; both were effective while allowing lots of base hits, not to mention that both hurlers were born on June 15, 1972. Pettitte had been more successful, it's true, and his Yankee stay ended on a high, while Ramiro struggled in 2001 despite a very productive stay. But Yankee fans had to live with the fact that if Ramiro had a great following year, he would be doing it for the hated rival Red Sox. He didn't though, aside from a brilliant July 5 start and win over the Yankees in the Bronx. His Boston numbers (3-5 and 2-1, 6.75 and 3.52 era's) didn't approach those he compiled in New York: 54-34 with 16 saves from 1996-2002. Unfortunately for Pettitte, another similarity he shared with Mendoza would be his injury-plagued 2004 season.
One-time Yankee backup catcher Gus Niarhos passed away on December 29, 2004. Gus debuted in the Bronx, kicking in 27 rbi's from 1946 to 1950, when he was selected off waivers by the Chicago White Sox. After part of two years with the Chisox, two with the Red Sox, and two with the Phillies, Niarhos retired from the game with one career home run and 59 rbi's. Fellow catcher Walt Alexander (1978), the only other Yankee player to have died on December 29, played 81 games at the end of his career with the 1915-1917 Yankees, netting 12 rbi's on 44-for-197 hitting in that time. Coupled with his 1912-1915 stint with the Browns, his overall numbers were one home run and 24 runs driven in.
The Yanks hoped that Dennis Werth (1952), the first of eight December 29 Yankee birthdays, would be a utility guy who could play infield and outfield, but experienced just marginal success once they drafted him in 1974. Werth played first primarily, and managed three homers and 13 rbi's for the 1979-1981 team, spending time in the outfield, at third base, at catcher, and at DH too. Shortstop Bill Knickerbocker (1911) bashed one homer with 32 rbi's in 52 games for the 1938-1939 Yanks. He played in Cleveland from 1933-1936, and with St. Louis (the Browns) in 1937, the White Sox in 1941, and the Phillies in 1942. Catcher Joe Smith (1893) served only with the Yanks, kicking in two rbi's and one stolen base to the 1913 team during 32 at bats in 14 games. And as alluded to above, the Yankee December 29 birthday rolls grew by one when Jaret Wright (1975) was signed in December 2004. Son of fellow hurler Clyde Wright, Jaret was taken by Cleveland in the first round (10th pick) of the 1994 amateur draft. He posted 52 wins, 45 losses, and two saves for the Indians, the Padres, and the Braves; went 16-12 in the Bronx; then 0-3 with Baltimore. Shortstop Tom Upton (1926), who hit two home runs with 42 rbi's for the Browns in '50-'51, and the Senators in 1952, had two stints with the Yanks, though he never played a game with the parent club. 
The assemblage of Yankee players birthdaying December 29 grew by one in 2007, by another in 2008, and a third in 2017, not any of them to any long-term (or much short-term) benefit to the team. Righty reliever Jim Brower (1972) crowned a 1999-2007 major-league stay with a 33-32 record with five saves by allowing seven runs in 10 innings in three games for the Yanks, to no record. The late-season 2008 signing of slugging first baseman Richie Sexson (1974) led to just one home run and six runs knocked in in 28 at bats during 22 games down the stretch. That brought him to 306 long balls and 943 rbi's in a 1997-2008 career spent largely with Cleveland, Milwaukee, and Seattle. The Yankee career (so far, anyway) of hard-luck outfielder Dustin Fowler (1994) got off to a bad start when he was seriously injured running into the right field foul wall in Comiskey Park in Chicago in 2017. It happened in the first inning of his debut major league game. Subsequently, the still injured Fowler was traded along with minor league pitching prospect James Kaprielian and minor league infield prospect Jorge Mateo to Oakland for righty starter Sonny Gray. In 69 games for the A's in 2018, Fowler stroked six home runs and drove in 23.