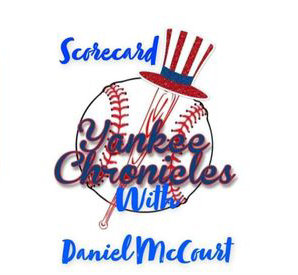 Not only was Tim "Rock" Raines a mainstay of the 1996 World Championship team, he was one of the most popular Yankees during his 1996 through 1998 stay. The Yankees acquired the speedy switch-hitting outfielder from the White Sox on December 28, 1995, for a player to be named later (in February 1996 minor leaguer Blaise Kozeniewski was sent to Chicago). Tim contributed 18 home runs, 118 rbi's and 26 stolen bases to the Yankee cause in part-time duty, and had two particularly big days. On September 30, 1997, in the first game of the ALDS vs. Cleveland, he combined with Derek Jeter and Paul O'Neill on back to back to back home runs that carried the Bombers to victory (though the Indians would prevail in that series). And in a June 10, 1998, interleague tilt with the Montreal Expos (his long-time former team), Raines became the fifth player in major league history to steal his 800th base. Sadly, Bernie Williams would be lost for a month in that same game injuring himself sliding.
In a big deal involving major and minor league franchises, the Yankees traded righthanders Caleb Cotham and Rookie Davis to the Cincinnati Reds, while the Trenton Thunder traded third baseman Eric Jagielo and second baseman Tony Renda to the Pensacola Blue Wahoos, all resulting in Cincinnati shipping lefty closer Aroldis Chapman to New York on December 28, 2015.
The December 28, 1998, Tigers' trade of Luis Gonzalez to the Diamondbacks for at-the-time, can't-miss prospect Karim Garcia would eventually net both positive and negative results in the Bronx. Filling in in Yankee right field after the banishment of Raul Mondesi to Arizona (small world) in 2003, Garcia would have a huge base hit against Pedro Martinez in Game Three of that Year's ALCS. But on the other hand, Gonzalez, for a time a bona fide star in Arizona, would knock in the World Series winner against the Yanks in November 2001.
Another December 28 transaction that would resonate in Yankee land was the free-agent signing of third baseman Charlie Hayes by the Pirates in 1995. The Bronx would be the next destination in Hayes's career once the Yankees traded minor leaguer Chris Corn to Pittsburgh in August of 1996, procuring Charlie for the season's stretch run. Sharing the hot corner with portsided batter Wade Boggs, Charlie would drill 13 homers, drive in 66 runs, and even steal three bases in '96 and '97 in Pinstripes, but his -- and our -- most memorable moment of his Yankee stay was when he squeezed Mark Lemke's foul pop to end the 1996 World Series in the Baseball Cathedral. 
A stalwart of the Yankee rotation in their very early years, righty Ray Keating (1963) is one of two Yankee players to have died on December 28. In 108 games (79 starts) from 1912-1918, he posted a 23-40-1 mark, which grew to 30-51-1 overall after a 1919 stint with the Braves. And not at all affectionately known around baseball as "the Barber," long-time Giants righty who also pitched for Cleveland, Brooklyn, and St. Louis, Sal Maglie (1992) won three games, lost one, and saved three games in 13 appearances (six starts) for the 1957-1958 Yankees. His overall mark from 1945-1958 was 119-62-14.
Aurelio Rodriguez (1947), the only guy born on December 28 to actually play in Pinstripes, made his reputation as a good guy and strong-armed third baseman with power in four years in California, followed by nine in Detroit. But he did contribute five homers and 22 rbi's in 79 games for the 1980-1981 Bombers. The contract of Rodriguez, the first of two by that surname to play the hot corner for the Yanks, was purchased from the Padres in August 1980. He would be traded by New York to the Toronto Blue Jays for Mike Lebo in November 1981.
Lefty Bill Karns (1875) is fairly included in this birthday list because he went 1-0 in three games for the 1901 Baltimore Orioles, his only major league experience. The American League franchise that played in Baltimore in 1901-1902 moved to New York in 1903 and became the Highlanders, and eventually, the Yankees.
The oldest son of the long-time Yankee pitcher and pitching coach, Mel Stottlemyre, Jr. (1963), was the second one to make it to the majors (after his younger brother Todd), and his only big-leagues experience was an 0-1 record in 13 games with the 1990 Kansas Royals, but he feels right being included in the Yankee family.