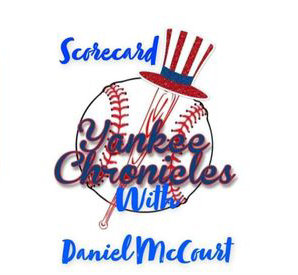 Although the Yanks and Red Sox would not announce it until January, the Bombers purchased the contract of Babe Ruth on December 26, 1919. Much of the Babe's impressive 94-46 pitching mark was accomplished in Boston, but the bulk of the 714 homers, 2,213 rbi's, 233 stolen bases, and .342 career ba from 1914-1935, came with the Yanks. It put major league baseball on the World Map, and it made the Bronx its Capital.
The Yankee family lost one of its most beloved sons and most faithful servants when long-time organist Eddie Layton passed away on December 26, 2004, less than a year after he had retired from his perch in the Bronx. Actually quite the Renaissance man, Eddie had a model train collection of some renown, and he was a boater as well. Earlier in his career he played the organ at Nassau Coliseum and at Madison Square Garden, but he remained tickling the ivories at The Baseball Cathedral exclusively as his career continued. Layton did not miss a day at the Stadium organ in more than 30 years.
In a December 26 transaction affecting a famed Yankee hero, Dave Righetti signed a free agent contract with the Athletics on this day in 1993. But Dave was ineffective in Oakland in '94 and was released. He would sign with Toronto where he finished the year with an 0-1 mark, and close out his career with a 3-2 record for the White Sox in 1995. The bulk of Rags's 82-79 record with 252 saves came in New York, though he did post a 5-15 mark with 28 saves with the Giants from 1991 through 1993. Dave served as the SanFran pitching coach from 2000 through 2017.
On December 26, 2017, the Yankees re-signed free agent lefthander CC Sabathia. He would pitch to a 9-7 record in 2018 in 29 games, including his "That's for you, b__ch!" moment in Tampa in September. He pitched to a 5-8 record in 23 games in '19 before retiring. 
Hard-throwing righty Allie Reynolds (1994) is the most noteworthy of five Yankee players to have died on December 26. Reynolds won 131 games, lost 60, and saved 41 in New York while appearing in 295 games (209 starts), and he threw two no-hitters in one year for the Yanks as well. Added to his 1942-1946 start in Cleveland, Allie's numbers balloon to 182-107-49. And although outfielder Paul Blair (2013) did not start his career in New York, playing over 1,700 games slickly patrolling center field in Baltimore from 1964 through 1976, he may eclipse Reynolds in current fan recognition due to his more recent stint in the Bronx. Paul had a huge home run in a 1-0 win over the Dodgers during the O's 1966 World Series four-game sweep. Reduced as a hitter after a beaning, Paul would make huge postseason offensive contributions once he joined the Yanks in 1977. Blair hit six long balls good for 38 rbi's mostly in 1977-1978 in New York, but a bit in 1979 and 1980 too. In a 12-year career, his numbers were 134 and 620.
Utility player Clyde Engle (1939) hit three home runs and drove in 71 runs on 140-for-505 hitting playing 140 games debuting with the 1909-1910 Highlanders; his numbers increased to 12 and 318 after spending 1910-1916 with the Red Sox, the Buffeds, and the Indians. Shortstop Roxey Roach (1947), who also debuted with New York, knocked in 24 runs on 57 hits in 260 at bats playing 83 games for the 1910-1911 Highlanders. Playing with Washington in 1912 and in Buffalo in 1915, he managed to hit three long balls and drive in 54 runs overall. And finally, another player who debuted with the Yanks, righthander Tom Gorman (1992) posted a 10-7-9 mark with the 1952-1954 Yankees in 75 games (seven starts). A 1955-1959 stint with the K.C. A's topped his record off at 36-36-42. 
After a 15-year World Series drought, the Yanks returned to the Classic in 1976 after Chris Chambliss (1948), born this day, broke a ninth-inning, Game-Five ALCS tie with a drive high and far to right. Chris was a first-pick, first-round choice of the Indians in 1970, but was shipped by them to the Yanks with Dick "Dirt" Tidrow and Cecil Upshaw for Fritz Peterson, Steve Kline, Fred Beene, and Tom Buskey in 1974. He stayed five years, during which the Yanks won three pennants and two World Series. Chris hit 79 homers for the Yanks, with 454 rbi's and 10 stolen bases before being traded away in a big swap that brought Rick Cerone to fill the at-the-time recently deceased Thurman Munson's spot. Chris served in the batting coach position under Joe Torre for a while.
Four other Yankee players share the day after Christmas as their birthday. Shortstop Doc Farrell (1901) garnered 10 rbi's in 40 games for the Yanks in '32-'33. His eight-year career numbers with the Braves, the Cardinals, the Cubs, and the Yanks are 10 homers with 213 rbi's. Utility player Queenie O'Rourke (1883) knocked in three runs and stole four bases during 34 games for the 1908 Yanks. And submarine righty pitcher Jay Tessmer (1971) gave up 29 hits and 20 earned runs in 22 games for the Yanks, his only big-league team, from 1998 through 2002. And after being drafted by the Reds, then traded to the Angels, for whom he pitched to an 8-7 mark from 2006-2009, free agent Dustin Moseley (1981) became the most recent Yankee birthday when the club signed him for 2010. Dustin held his own through 26 games (nine starts), and pitched to a 4-4 record.