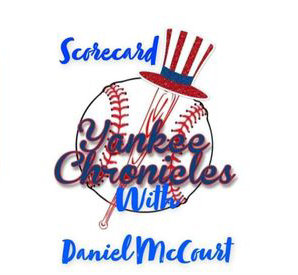 There were cries of agony all over New England when the Yankees signed free agent outfielder Johnny Damon following his stay in Boston on December 23, 2005, inking him to a four-year contract. Johnny had a great year in Pinstripes in 2006, but less so in 2007, hampered by a string of injuries. He had a solid season leading off in 2008, and batting second in 2009, his last year in Pinstripes. It was a good year to go out on, as the Yanks took the World Series, during which Damon made a memorable two-base steal in a win over the Phillies.
The unfortunate Yankee followup to their decision to let slugger Reggie Jackson go after the 1981 World Series failure was the decision to rejigger the offense as one built on team speed, rather than power. With this in mind, the team signed outfielder Dave Collins to a three-year deal on December 23, 1981, though he was barely to last one season. And although the three homers and 25 rbi's in 111 games were disappointingly low figures, it was the lack of speed on the basepaths (only 13 stolen bases) that doomed the plan.
Even if he had not been the guy who let fly the pitch that killed Ray Chapman in 1920, Carl Mays would have been a controversial guy. He had been a big winner in Boston, but there was some dissension between him and his teammates and the club chose to move him. And since arriving on the Yankee squad for the 1919 season he had posted a 79-39 win/loss record, even if his 1923 mark dipped to 5-3 and he did not play in the World Series. Some felt he didn't always try his hardest, while he claimed that the team had quit on him, the same claim he had made in Boston. The Yanks decided to give him a change of scenery and sold him to Cincinnati on December 23, 1923. Mays would pitch to a 49-34 mark in Cinncy from 1924-1928.
On December 23, 2019, the Yankees traded righthander Chance Adams to Kansas City for shortstop Cristian Perez.
December 23, 1975, is a huge day in major league baseball, and the event that took place that day has had far-reaching implications. Arbitrator Peter Seitz decided in favor of the Players' Association, making free agents of Andy Messersmith and Dave McNally.
A double baseball tidbit about Sparky Anderson, already in the record books for winning World Series as a manager in both the National and American Leagues. But Sparky's brief playing career was memorable as well. Anderson's 152 games at second for the Phillies in 1959 once the Dodgers sent him there on December 23, 1958, represent the record for most games by a player who only appeared in one season. Add in another unwanted mark, his 119 total bases stand as the fewest ever for a player with 500 at bats.
Superb defender at third base Aurelio Rodriguez is the only Yankee player to have died on December 23  (2000) by virtue of his 1980-1981 stint with the club near the end of his 1967-1983 career. Aurelio cleared five fences and drove in 22 runs in New York, just a small part of the 124 dingers and 648 rbi's he accumulated largely playing nine seasons with the Tigers and four years with the Angels.
The half of the 2005 season the birthdaying Shawn Chacon (1977) spent in Pinstripes was a huge -- and recent -- positive. Chacon stopped some losing streaks during his 7-3, 14-game (12 starts) stretch ride with the Yanks that year, once they picked him up for hurler Eduardo Sierra and another minor leaguer. But Shawn stumbled badly in early '06 and he and his 7.00 era were sent to Pittsburgh for Craig Wilson. Righthander Tim Leary (1958) and third baseman Fritz Maisel (1889) are the only two among Yankee players born December 23 who spent several seasons with the team. Leary was signed as a free agent on a bad team in 1990, and he compiled a very poor 18-35 mark in the Bronx by the time he was traded to Seattle for minor leaguer Sean Twitty in August 1992. Maisel got his big league career started with the 1913 Yankees, and he hit six homers, knocked in 132 runs, and stole 183 bases by the time he left to play the 1918 season with the St. Louis Browns. Fritz's 74 thefts in 1914 stood as the Yankee single-season record until Rickey Henderson claimed it 70 years later. 
Speaking of that speedy base-stealing left fielder, we'll count Bert Bradley (1956) with the Yankee birthdays even though he never played for them because he arrived in New York in the multi-player trade that brought Rickey to the Bronx in 1984. Bradley's 0-0 record in six appearances for the 1983 A's represents his total big-league experience. Outfielder Hinkey Haines (1928) toiled only for the Yanks, knocking in three runs in 45 at bats during 28 games for the '23 club; Al Cicotte (1929) fashioned a 2-2 mark with two saves for the 1957 team before splitting the next five years among Detroit, Washington, Cleveland, St. Louis, and Houston. Cicotte's career mark was 10-13, with four saves. And finally December 23 Yankee birthdays conclude with that of outfielder George Whiteman (1882), a two-rbi man in 32 at bats in 11 games for the 1913 Yanks. George added two partial seasons in Boston, and left the game with two homers and 31 rbi's to his credit.