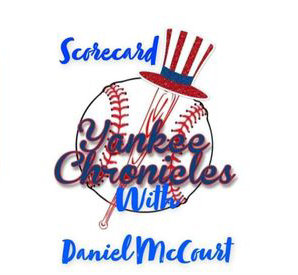 The free-agent signing of David Cone by the Yankees on December 22, 1995, following a half year in which he went 9-2 and almost single-handedly led the Bombers into the ALDS vs Seattle, is the biggest single event of the day from the Pinstriped perspective. Cone had earlier starred for the Mets after they got him in a steal of a deal from K.C., and he then developed the reputation as a "hired gun," after being traded to Toronto down the stretch twice in close pennant races. The '95 acquisition for three young arms from the Bronx appeared to be more of the same, but Cone settled into a long-term role in pinstripes, and took part in the resurgence that carried the Yanks to the playoffs every year and to four Championships by the time he left after the '00 season. Adding on to his 1995 numbers, he posted a 64-40 mark in that time despite dipping to 4-14 in that last year. What's more, he recorded the first of the Yanks' amazing 14 World Series game wins in a row when he halted the Braves in Game Three in 1996. He threw a Perfect Game against the Montreal Expos in Yankee Stadium in July 1999. 
December 22, 1987, may have even been a happier day in Yankee land, though it happened for a much less accomplished Bomber team. They managed to move a veteran lefty in Steve Trout, whose performance in the Bronx had been truly horrid (0-4 in 14 games, with nine wild pitches), shipping him and outfielder Henry Cotto to Seattle for reliever Lee Guetterman, righty Clay Parker, and minor league hurler Wade Taylor. Cotto performed adequately for the Mariners, and Trout (8-10) wasn't as bad as he had been in New York. But Parker went 5-6 for the '89-'90 Yanks and Taylor, despite a 7-12 record in 1991 in a career halted by injury, has been a valuable Yankee scout for years. And Guetterman became a five-year mainstay in the Yankee pen, with a 21-19 record and 21 saves.
The Yankees signed righthander Carl Pavano to a four-year contract on December 22, 2004. Although the Connecticut-raised Pavano seemed destined to help the Yanks strike back against the Red Sox after their '04 Championship, he struggled through the 2005 season, and his 2006 injury sojourn cost him virtually all of his credibility in the Bronx. He teased fans with two effective April 2007 starts, and pitched in September 2008, but most fans eagerly bid the "American Idle" bon voyage after the 9-8 record over four frustrating years, as a waste of $40 million.
The Yankees shipped inconsistent Japanese starter Hideki Irabu to the Expos on December 22, 1999, for pitcher Jake Westbrook and two guys to be named later, who were to become Christian Parker and Ted Lilly. Even though Irabu posted just a 2-7 record in Montreal, the trade was not one of the Yanks' best. While Parker went 0-1 and Westbrook 0-2 in New York, Lilly pitched much better than his 8-6 mark. But then he was traded for Jeff Weaver. In 2004, Weaver became the biggest cog in the Kevin Brown deal that punctuated a frustrating 2004 postseason and only rarely got better in 2005. A better outcome was derived when Westbrook was one of the three players sent to Cleveland for David Justice, a huge postseason contributor for two years in New York.
The 2003 Yankee signing of bullpenner Paul Quantrill became official on December 22. Paul was part of the three-headed "Quangormo" team with Tom Gordon and Mariano Rivera in the Yankee pen for much of the '04 season, but the righty burned out in that season's second half, pitched poorly in 2005, and was given his release.
The Bombers got a lot more than they bargained for when they re-signed outfielder Bernie Williams to a one-year contract on December 22, 2005. With injuries decimating the team's starting outfield, Williams got into 131 games in which he stroked 12 home runs and delivered 61 rbi's.
Catcher Bennie Bengough (1968), who played the first eight years of his 1923-1932 career with the Yankees, easily outdistances four other guys who have died on December 22 in team longevity. In 317 games, he drove in 81 runs on 217 hits in 846 at bats; he added 27 rbi's playing for the Browns in 1931-1932. Shortstop/outfielder Queenie O'Rourke (1955) played all 34 of his games with the 1934 Yanks, with three rbi's on 25-for-108 hitting. Righthander Bobby Hogue (1987) also played 34 games for the Yanks, making all of those appearances (with no starts) in 1951-1952, to a 4-5-4 record. Fellow righthander Archie Campbell (1989) debuted by pitching in 13 games (one start) for the 1928 Yanks to a 0-1-2 mark, numbers that increased to 2-6-6 after spending 1929 with the Senators and 1930 with the Reds. Newest to the list is another backstop, lefty-hitting, righty-throwing catcher Ed Herrmann (2013), who cleared six fences and drove across 30 runs in 80 games for the 1975 Yankees.
In discussing Yankee December 22 birthdays, portsided reliever Zach Britton (1987) easily takes precedence in terms of his effectiveness pitching for the team, and in his recent his arrival in the Bronx. A third round selection of the Baltimore Orioles in the 2006 amateur draft, Britton actually started 46 of 48 games to start his career in 2011-2013, but has appeared exclusively in relief ever since, in 361 games. The last 111 of those were pitching for the Yankees once they acquired him from the O's for pitchers Dillon Tate, Cody Carroll, and Josh Rogers in late July of '18. Zach enjoyed a solid to spectacular 2019, with a 3-1 mark and three saves in 66 games. He was even better in the truncated 2020 season, pitching to a 1-2 mark with eight saves in 20 games and, as one of three reliable postseason bullpen options, struck out six in three games vs Tampa in the ALDS, allowing but one hit in four innings pitched.
Lefty thrower Tom Underwood (1953) posted a 14-13 record with two saves in the Bronx during the 1980 and 1981 seasons; he was involved in a big trade when he arrived (coming with Rick Cerone and Ted Wilborn from Toronto in 1979 for Chris Chambliss, Damaso Garcia, and Paul Mirabella), and in a disappointing one when he left, when he and Jim Spencer were sent to Oakland in 1981 for players who did not succeed in the Bronx. Lefty-hitting catcher Elrod Hendricks (1940) kicked in four homers and 10 rbi's as a Yankee part-timer in 1976-1977 after eight years with the rival Orioles. As mentioned in yesterday's history, Elrod passed away in 2005 one day before his 65th birthday. Lefthanded outfielder Matty Alou (1938) played in the Yankee outfield with his brother, Felipe Alou, getting two homers and 28 rbi's for the 1973 team. Matty played with the Giants (six years), the Pirates (five), the Cardinals (three), and one season each with the A's and Padres.