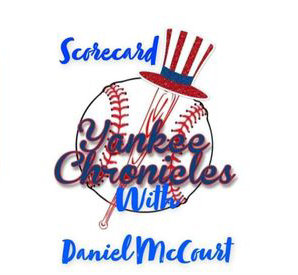 Whatever steroids/HGH controversy sullies how he's viewed, Yankee fans were delighted when former Pinstriped southpaw Andy Pettitte signed a one-year deal, with a one-year player option, to return to the Bronx on December 21, 2006. And for good reason. Pettitte pitched better than his 15-9 record, and his gutsy start in Game Two of the 2007 ALDS gave the team an excellent chance to advance to the next round, until a swarm of midges ruined the evening. Following a 14-14 mark in 2008, Andy would win the clinching games in all three playoff series on the way to Championship No. 27 in 2009. Following an injury-marred, 11-3, 2010 season, Pettitte joined his "core four" teammates Jorge Posada, Mariano Rivera, and Derek Jeter, the last domino to fall, in retirement.
Neither party got what they expected when the Yankees signed second baseman Tony Womack to a two-year contract on December 21, 2004. Banished to the outfield and then bench by the emergence of young second sacker Robinson Cano, Womack was shipped to Cincinnati for two minor leaguers just short of one year into the two-year deal.
We reported three days ago that Duffy Lewis, newly returned from the war in Europe, was traded from Boston to the Yanks back in 1918. The actual trade was a seven-player deal, with some reports placing it on December 21. The Red Sox sent several players south with Lewis, with the Yanks packaging pitchers Ray Caldwell and Slim Love and position players Frank Gilhooley and Roxy Walters in return. But the principals were Lewis and Caldwell, and in that respect Lewis's 150 rbi's for New York in 1919-1920 trump the 7-4 mark the Sox got from lefty Caldwell. Neither team got what they were hoping for, however, as those numbers pale in comparison with what the players had achieved earlier: Lewis, almost 700 runs driven across for Boston; and Caldwell with close to 100 wins for New York.
Even though he played just 36 games for the Yanks, we look fondly back on backup catcher Elrod Hendricks, who passed away on December 21, 2005. Hendricks spent most of his 12-year career with the rival Orioles, but he was well-liked in New York once he arrived in the 1976 blockbuster along with Doyle Alexander, Jimmy Freeman, Ken Holtzman, and Grant Jackson while Rudy May, Tippy Martinez, Dave Pagan, Scott McGregor, and Rick Dempsey headed south. Of Hendricks's 62 career homers with 230 rbi's, four and 10 came with the Yanks. The only other Yankee player to have died on December 21 is first baseman Harry Williams (1963), who played all 86 of his major-league games with the 1913-1914 Yankees. He stroked two home runs and drove in 219 runs on 50 hits in 260 at bats.
The 1-1 record in 33 Yankee games in 2008 with an almost 6.00 era were not the numbers the Yanks thought they'd be getting when they inked free agent righty reliever Latroy Hawkins (1972), the first of six December 21 Yankee birthday players. Hawkins's name is familiar to some Yankee fans as the losing pitcher in David Wells's 1998 Perfect Game in the Bronx. We'll never know how different the career of d'Angelo Jimenez (1977) could have been had he not suffered the catastrophic 2000 offseason car accident that put him in a neck brace early in his career after he had debuted in the bigs. Still recovering, he was shipped off to San Diego for righty reliever Jay Witasik, an unfortunate train wreck in the Yankee pen. 
The ironic thing about the career of Elliott Maddox (1947) is that although he tore up his knee playing center field for the Yanks when they played in Shea Stadium in 1975, and sued the city of New York because of the injury he sustained there, he finished up his career by playing three seasons in that same outfield for the Mets from 1978-1980. Elliott was a good defensive center fielder, and he contributed four homers and 71 rbi's to the Yankee cause during the 1974 through 1976 seasons. He was traded for a still quite serviceable Paul Blair from Baltimore in 1977. Although Dave Kingman (1948) blasted 442 career homers, it was certain early on that his flawed game would not get him into the Hall of Fame. He hit four home runs for the Yanks in eight games in 1977. In a historical quirk, Dave set a record that year that will not be matched. There were four divisions in baseball that season, and Dave played for — and homered for — teams in all four (the Padres, the Angels, the Yankees, and the Cubs). The Bombers added southpaw Royce Ring (1980) in 2010, but Ring did not fare well in the Bronx, pitching to no record and a 15.43 era in five games. Although the Yankee December 21 birthday club grew by one in 2011 after righthander Buddy Carlyle (1977) pitched in eight games to an 0-1 mark, he could have made the group back in 2003, the first time the Yanks signed him to a free-agent deal. Buddy notched a 13-13 career record with one save pitching small amounts of games for the Padres, Dodgers, Braves, Yanks, and Mets.