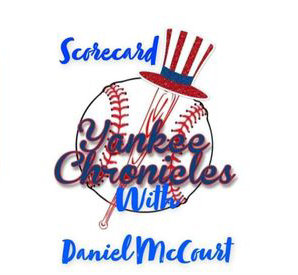 The Bombers solved a long puzzle when they signed Japanese professional baseball star Hideki Matsui to be their left fielder on December 19, 2002. It's unfortunate, perhaps, that few recall the Ironman he was before he broke his wrist trying to make a catch in early 2016, as "Godzilla" actually led the AL in games played each of his first three years. And he was unfairly denied the AL Rookie of the Year Award his first year. He would clear 140 fences good for 597 rbi's in the Bronx through the 2009 season, when he saved the best for last, homering four times in the post, good for 13 rbi's. His six rbi's in the deciding sixth game vs the Phillies won him that World Series MVP Award.
On December 19, 2014, the Miami Marlins traded righthander Nathan Eovaldi, outfielder/first baseman Garrett Jones, and righty Domingo German to the Yankees for righthander David Phelps and utility player par excellence Martin Prado. The hard-throwing Eovaldi has had injury issues ever since, mostly with Boston, though he did pitch to a stellar 14-3 record for the Yankees in 2015.
After designating righty Brett Marshall for assignment on December 19, 2013, the Yankees made several free agent signings, but the big name was outfielder/DH Carlos Beltran; Carlos would hit 56 home runs in the Bronx with 180 rbi's until a late-season trade in 2016.
It came as no surprise to learn that when the bidding for pitcher Catfish Hunter, newly named a free agent due to Oakland failing to honor his contract, began on December 19, 1974, the first two teams to send representatives were the Red Sox and the Yankees.
The Bombers shipped five guys to San Francisco of the Pacific Coast League on December 19, 1934, as payment for the signing of Joe DiMaggio.
On December 19, 2012, the Yankees re-signed free agent right fielder Ichiro Suzuki, who had been with the club down the stretch in the recently completed season. Ichiro would score 99 runs and steal 35 bases the next two seasons in New York.
The Yankees did some roster housecleaning on December 19, 2003. First they nontendered outfielders David Dellucci and Karim Garcia, making them free agents. Then they signed free-agent infielder Miguel Cairo. A valuable and versatile infield backup, Miguel would provide solid "D" and hit six long balls and knock in 82 runs over parts of three seasons.
Infielder John Knight (1965), who ended his career with the 1913 Yankees after an earlier stint with the team in 1909-1911 when they were referred to as the Highlanders, is the only Bomber player to have died on December 19. He hit six home runs and drove in 201 runs in New York, achieved by stroking 399 hits in 1,494 at bats in 435 games. A 1905-1907 tour with the A's and brief stops with the Americans and Senators crowned Knight's career numbers at 14 and 270 overall.
Before 2006, there were five players who comprised the December 19 Yankee birthday list. Newer arrivals since then include shortstop Andy Cannizaro (1978), who toiled in the Yankee minors for years before getting a shot with the '06 team. He hit .250 by getting two hits in eight at bats in 13 games, but was well ahead of the curve with five runs scored in that short time. He hit one home run, good for his one rbi. Starter Ian Kennedy (1984), on the other hand, raced to the majors in 2007 after having begun that season down in AA ball. But Kennedy failed badly when granted a rotation spot in 2008, as the 0-4 mark in 10 games (nine starts) with an 8+ era shows. Setup man Rafael Soriano (1979) joined the Yankee December 19 birthday club once he was signed to pitch in New York for the 2011 season. He would have a fabulous 42-save 2012 season closing in the Bronx once Mariano Rivera went down to an injury. 
A throwback to the old days at least in that he had the great nickname, Walt "No Neck" Williams (1943) is the one player among the five Yankees already alluded to born on December 19 to have served with the team the longest. He finished his 13-year career, which featured 11 years playing for the White Sox, by hitting five homers, knocking in 19 runs, and stealing one base during 125 games for the 1974-1975 Yankees. Righthander Clay Parker (1962) was traded to the Yanks by Seattle along with Lee Guetterman and Wade Taylor for Steve Trout and Henry Cotto in December of 1987. Parker posted a 5-6 mark in 27 games in the Bronx (19 starts) in 1989 and 1990. Righty Rob Gardner (1944) went 9-5 for the Yanks in 1970-1971 in 23 games (15 starts). Unique on Rob's resume is that he was traded from the Yanks twice, once in a transaction bringing Felipe Alou to New York, and the second time in a swap that netted Felipe's brother, Matty Alou. Outfielder Gordie Windhorn (1933) debuted for the 1959 Yanks to the tune of no hits and three strike outs in 11 at bats in seven games, and he was traded to the Dodgers in 1960 for Fred Kipp. Infielder Mickey Witek (1915) had no hits as well, but he only had one at bat for the 1949 Bombers to end his big-league time after eight years with the Giants. And finally, honorable mention goes to Tom Wilson (1970), who, though he never played for the Yanks, was drafted by them in the 23rd round of the 1990 draft. He hit 15 taters with 76 runs driven in for the A's, the Blue Jays, the Mets, and the Dodgers from 2001-2004.