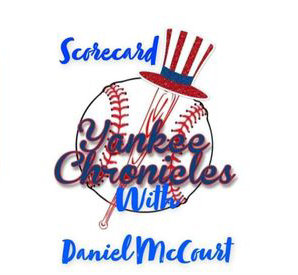 Christmas came both early and late for Yankee fans in 2008. First, the team gave them two huge presents exactly one week early when they signed free-agent lefty CC Sabathia to a seven-year deal, and then righthander A.J. Burnett on for the next five years, on December 18, 2008. Then more than 10 months later, the presents bore fruit as the Yanks took home Championship No. 27.
To the enjoyment and appreciation of an entire generation of Yankee fans, "The Scooter," the at-the-time recently retired shortstop Phil Rizzuto, signed on as a Yankee radio and TV announcer on December 18, 1956. He would pass the cannolis, gab about birthdays, root like the devil, and crack Yankee fans up for more than four decades. Sadly, Phil passed away on August 13, 2007.
The biggest news of this 2019 day is that the Yankees signed free agent righthander Gerrit Cole, as solid an acquisition as they've made in a decade. But the team also designated righty Chance Adams for assignment; activated first baseman Luke Voit; and signed free agent righthander Adam Warren to a minor league contract.
Outfield great Tommy Henrich, known as "Old Reliable," hung up his spikes after his 14-year career with the Yankees on December 18, 1950. A lefty, he played only for the Bombers, and amassed 187 home runs and 795 rbi's from 1937-1950. Tommy passed away in late 2009.
The Yankees signed free agent lefthander Richard Bleier to a minor league contract and invited him to spring training on December 18, 2015. He would pitch to a sub-2.00 era in 23 games in the coming season, but was sent to Baltimore in a roster crunch afterward. Bleier has done well with the Orioles since, and with the Marlins in 2020.
On December 18, 1973, the Yankees announced the signing (as manager) of Dick Williams, who until recently had held that position with the A's. Oakland owner Charlie Finley threatened to sue, and AL President Joe Cronin stepped in and blocked the move. Dick never would manage in the Bronx, though he did advise the owner for a while.
On this day in 1993, in a true rarity -- the Yankees having the actual No. 1 first-round draft choice -- said pick Brien Taylor injured his shoulder in a bar fight, an injury from which he would never recover well enough to pitch major league baseball.
When the Yankees signed free agent center fielder Dewayne Wise on December 17, 2011, fans probably did not anticipate that Dewayne would help them much. But Brett Gardner suffered a nagging wrist injury in April that refused to heal, and Wise would contribute three home runs and eight rbi's and solid defense in 56 games.
Lefthanded Red Sox outfielder Duffy Lewis was traded to the Yankees upon his return from the military after World War I on December 18, 1918. He would hit 11 homers and knock in 150 runs in New York during the 1920 and 1921 seasons.
One of the three Yankees born December 18 had a memorable career in the Bronx, another experienced a career more noteworthy for its moves than its stops along the way, while the most recent birthdayer suffered through a painfully inept half season with the 2017 club. Signed as a free agent before the 1950 season, Bill "Moose" Skowron (1930) started posting big-league numbers with the club in 1954 and had recorded 165 dingers, 672 rbi's, and even 14 stolen bases by the time he was traded to the Dodgers for Stan Williams in 1962. Righthander Scott Nielsen (1958) also made his big-league debut in the Bronx, managing a 6-6 mark in 19 games (11 starts) for the 1986 and 1988-1989 Pinstripers. Scott's major league trek went from Seattle to the Bronx, to Chicago's South side, back to the Bronx, and finally to Flushing, though he only appeared in big-league games with the Bombers and the Palehose. And signed as a free agent to be Greg Bird's backup following a 40-homer season for Milwaukee, first baseman Chris Carter (1986) did homer eight times and drove in 26 for the 2017 team, but he struck out 76 times in 62 games, and batted .201, until he was released in July.