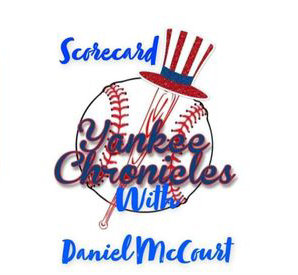 The Yankee franchise has more than its share of big names associated with December 25, but unfortunately the first Yankee reference we'll make is to the death, this day in 1989, of former Yankee manager and player Billy Martin. Billy played with the Yanks from 1950-1957, during which time he stroked 30 home runs with 178 rbi's and 19 stolen bases; he also made at least one memorable World Series catch. But where Billy shone was on the bench piloting a team. He led the Minnesota Twins to a pennant win in 1969, won a pennant in three years with the Tigers (second and third place the other two seasons), and coached a second- and third-place team in two full years with the Rangers. And in his four years piloting Oakland after his first two stays with the Yanks, he notched a first and two second places. But it was in New York that Billy posted a 1,252-1,013 win/loss record, won three pennants and two World Titles, and otherwise led the club to a second, two thirds, a fourth and a fifth-place finish.
Perhaps it's logical to expect very little baseball history on Christmas Day, so deep into the winter season. But on December 25, 1862, a crowd of 40,000 spectators watched Union soldiers play the game in Hilton Head, South Carolina, during the War Between the States. And more in keeping with the season's cold temperatures, the first indoor baseball game ever played at the Philadelphia fairgrounds took place on this day in 1888. Finally, on December 25, 1922, newly retired first baseman/third baseman Herb Hunter led a group of All Stars to a 12-5 win over American servicemen in Manila. Herb's stars included Yankee hurler Waite Hoyt and Casey Stengel, the second legendary Yankee manager mentioned in today's history, though at the time he was still playing outfield for the New York Giants.
Aside from Billy Martin, there are four additional Yankee player deaths this day. Third baseman Don Savage (1961), who played all 105 of his games with the 1944-1945 Yankees, hit four home runs and drove in 27 runs on 76-for-297 hitting. Catcher Bill Skiff (1976) played six games with the 1926 Yankees after having already appeared in 16 contests with the 1921 Pirates. Skiff managed no homers nor rbi's on one hit in 11 at bats in New York, but he had already driven in 11 runs in Pittsburgh. Slick-fielding first baseman Mike Hegan (2013), son of All Star Cleveland catcher Jim Hegan, debuted in New York, playing 86 games from 1964 through 1967; he returned to play 55 more in 1973-1974. His overall Bronx numbers were nine and 28, which grow to 53/229 in a 12-year career spent largely playing in Oakland and Milwaukee. First baseman Frank Foutz (1961), who played 20 games, all of them with the 1901 AL Baltimore Orioles, makes the end of this list because that team would be relocated to New York as the Highlanders in 1903. He cleared two fences good for 14 rbi's on 17 hits in 72 at bats. 
Although Hall of Fame Yankee Manager Joe McCarthy (1881) is just one of seven Yankees born on December 25 (three of whom are legendary), we'll lead off with him as the third Yankee manager receiving December 25 mention. Joe piloted the Bombers to a 2,348-1,460 record from 1931-1946, won eight American League pennants in that time, and cashed seven of them in for World Titles, four of them in a row. He played in one game for the 1905 Yanks, getting no hits in two at bats, and played in St. Louis in 1906. Hall of Famer Rickey Henderson (1958) comes next, not only because he is the all-time stolen base and base on balls leader, but because he was closely associated with Billy Martin too. Rickey blasted 78 homers, with 305 rbi's and 326 stolen bases in the Bronx from 1985 through 1989; spent almost 13 years with the A's over four tours of duty; and played for Toronto, San Diego, Anaheim, the Mets, Seattle, Boston, and the Dodgers too. The blockbuster deals that framed Henderson's stay in New York start with the December 1984 Yankees trade to Oakland of Stan Javier, Jay Howell, Jose Rijo, Eric Plunk, and Tim Birtsas for Rickey, Bert Bradley, and cash. Then in June 1989 the Bombers sent Henderson back to the Oakland Athletics for Greg Cadaret, Eric Plunk, and Luis Polonia.
Outfielder Ben Chapman (1908) was a mainstay of the early teams that Joe McCarthy managed, getting his major league baptism with the Yanks from 1930-1936. He smacked 60 dingers for the Bombers, knocking in 489 runs here, and he stole 154 bases too. Lefty-hitting third baseman Gene Robertson (1898) got one home run while knocking in 71 runs and running for five stolen bases for the 1928-1929 Yanks after eight years with the Browns and before one with the Braves. Robertson's contract was sold by the Yankees to the Boston NL franchise in September 1929.
Drafted in the first round (fifth pick) of the secondary 1972 amateur draft, Rick Anderson (1953) disappointed the Yankees and their fans in that his one game for the 1979 Yanks was his only one; he played five games for Seattle in 1980. He was traded along with Jim Beattie, Juan Beniquez, and Jerry Narron to the Mariners for Ruppert Jones and Jim Lewis in 1979. The trade of lefty Tyler Webb to Milwaukee for Garrett Cooper (1994) resulted in the (at the time) minor league first baseman becoming a member of this club. A sixth round pick of the Brewers in the 2013 amateur draft, Cooper batted .326 and knocked in six runs in 13 games for the Yanks. He has since homered 21 times and knocked in 72 runs in 155 games in Miami from 2018 through 2020. And righty Mike Blyzka (1928) posted a 3-11 mark with one save for the 1953 St. Louis Browns and the Baltimore Orioles in 1954. Never to actually play for the Yanks, Blyzka left Baltimore with a bang, as part of a 16-player trade between the O's and Yankees in December 1954.
We'll include a few highlights from a much less busy Yankee day, December 24, Christmas Eve, here at the end. The signing of left fielder Gary Ward on December 24, 1986, was big news for fans of the New York franchise of the American League. Ward would play two seasons plus eight games with the Yankees, and put up pretty fair numbers of 20 homers, 103 rbi's, and nine stolen bases in that time. 
This scribe/fan, for one, was saddened when it became assured that "Marshall Dellin" would be leaving the Bronx, when the Mets signed righthander Dellin Betances to a free agent contract on December 24, 2019.
The Yankees signed free agent infielder Donovan Solano to a minor league contract and invited him to spring training on December 24, 2015. Solano, who had played four years in Miami before appearing in nine games in the Bronx down the stretch of the 2016 season, with a home run and two rbi's, has become a solid contributor for the Giants in the last two seasons, as seven long balls and 52 rbi's clearly demonstrate.
Former Oriole, Ranger, and Yankee catcher Johnny Oates died from the aftereffects of a brain tumor on December 24, 2004. The only other Yankee player to die on December 24 is lefthanded first baseman George McQuinn (1978), who ended his career playing 238 games in 1947-1948 with the Yankees, with 24 home runs and 121 rbi's. And of some interest, Louis Sockalexis (1913) earns mention among nonYankee players to have died this day not because he had a long career with big numbers (three home runs, 55 rbi's) for Cleveland from 1897-1899, but because, to many reports, it was his presence on the roster of the Cleveland Naps that led to them becoming the Cleveland Indians, a nickname they have pledged to change. Sockalexis was a Native American. 
A lefty-hitting outfielder, Bill Otis (1889) is the only Yankee player who has December 24 as his birthday. He appeared in four games for the 1912 Yankees. In 17 at bats he managed one hit but made it count, as he earned two rbi's.